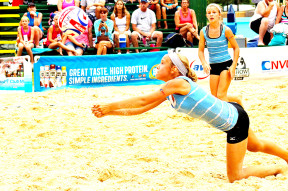 The National Volleyball League (NVL) has announced another key strategic partnership with JVA (Junior Volleyball Association). This strategy helps strengthen the leagues foundation to grow their grassroots initiatives and programs with another powerhouse in the junior market to work together to "Grow the Game". The two organizations are dedicated to developing young athletes and giving them more opportunities to play volleyball. The NVL will continue to offer clinics and camps with professional players all over the country to teach coaches, parents, and children about the fundamentals of the game, training and conditioning techniques, nutritional seminars, mental training, and how to prepare for college.
JVA and NVL are moving forward with an agreement to work together in the area of Junior Beach Volleyball to bring more resources in the areas of education and events to junior volleyball clubs.  Jenny Hahn, Executive Director of the JVA, stated "More and more junior clubs are adopting beach volleyball as an integral part of their programs.  It is the mission of the JVA to provide education and resources to junior clubs.  It is important for us to be able to tap into the knowledge and experience of the leadership and members of NVL to provide as much support as possible to our junior community. They have shown the commitment that we are looking for in a partner and are looking forward to doing great things with them."  Albert Hannemann, Founder and CEO of The NVL replied, "What JVA has built to fill the needs of the kids and families is impressive. They really care about the growth of the sport and have a huge loyal following across the country. The NVL is excited about this partnership and the great things we will accomplish together."
Check out this article that just came out this month in Volleyball Magazine about JVA
Junior Volleyball Association Takes a Stand
JVA will help NVL promote their mission and events via their web page, member contacts and social media outlets; and advise and participate in a national beach ranking system for junior beach athletes.  NVL will help JVA by sharing educational resources in the area of coaches' education and athlete training; provide access to JVA club beach athletes to NVL junior events; and advise JVA in matters related to beach competition.
Junior volleyball is about to get very interesting and the future of the sport looks brighter than ever.