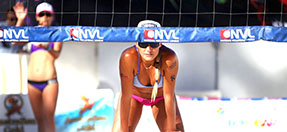 With six-action packed events planned across the US in 2014, the NVL is pleased to announce a new format for the first three events of the season featuring Saturday night finals followed by beach parties, live music and activities for the entire family. The "Saturday Night Lights" format will expand the NVL experience allowing fans of all ages to celebrate this lifestyle sport in a fun and festive environment.
"Historically it's been challenging to get people to come back for Sunday finals when they had other family obligations," said NVL Founder and CEO Albert "AL-B" Hannemann. "Fans can now come out and enjoy the event all day, stay for the finals and also participate in the beach party which will be held at the conclusion of the Men's final. It's going to be another great year for the NVL as we grow the sport with the fans and players to produce great experiential events that highlight the lifestyle elements of this amazing sport."
The 2014 season kick off in Dallas May 22-24 at La Playa Volley Ranch Beach Club.
See the full 2014 NVL schedule for more information