By Rich Kirchen – Senior Reporter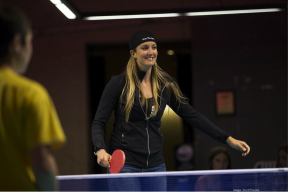 Molly Menard, a scion of the Menards home-improvement retail empire, is concentrating on her beach volleyball career for now, but told me she eventually will join the family business.
Menard, 29, is in Milwaukee this week promoting the National Volleyball League's new partnership with Milwaukee IndyFest. Beach volleyball will be one of the new attractions on the infield at this year's IndyFest Aug 16-17 at the Milwaukee Mile.
"It's going to be a really fun beach party," Menard told me Wednesday morning during an interview at the Milwaukee Business Journal's downtown offices.
Menard is both a player in the pro beach volleyball league and the league's chief financial officer.
The daughter of John Menard Jr. knows IndyFest promoters Andretti Sports Marketing, of Indianapolis, through Menard Inc.'s heavy involvement in sponsoring auto racing. Menard said Andretti Sports approached National Volleyball League officials about holding a tournament during the Milwaukee races, now known as the ABC Supply Co. Inc. Wisconsin 250.
This will be the National Volleyball League's first event in Milwaukee and one of six stops for the volleyball tour this year.
Running a beach volleyball tournament under the umbrella of a larger event is not new for the league, Menard said. For example, the NVL played on the infield of the Preakness Stakes for two years.
"We like to tie into something else," she said.
The younger Menard is a partner with pro beach volleyball champion Albert Hannemann in the National Volleyball League. They are striving to sustain a professional league for beach volleyball players in a field where other leagues have folded.
She is the league's lead investor and oversees finances and growth strategy. She lives in Hermosa Beach, Calif., where she practices volleyball six hours per day.
Before taking her role in the volleyball league that launched in 2011, Menard worked for MH Equity in Indianapolis. John Menard was an investor in MH Equity, but the relationship ended in a 2013 legal feud between John Menard and MH executive Steve Hilbert and the private-equity firm later filed for bankruptcy.
Molly Menard said she worked for the family business during high school, college at UW-Eau Claire (where she was an All-America volleyball player) and two years after college.
Hannemann and Menard believe their strategy can succeed because they are diversifying beyond volleyball events. The NVL runs a youth volleyball academy in Florida and has several sponsors includingBudweiser, Monster beverages, Rox Volleyball apparel, Mikasa volleyballs and Australian Gold sun screen.
After her volleyball career ends, Menard told me she wants to return home to Wisconsin.
"I love California, but it's not my home," she told me. "Obviously the weather's a lot better there, but I definitely want to come back and work for my dad and start a family here."
See Also