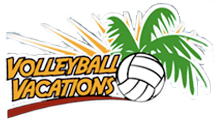 Volleyball Vacations recently hosted its 21st annual event at the all-inclusive Club Med beach volleyball resort in the Turks & Caicos Islands from November    2 – 9, 2014. Established by National Volleyball League founder and pro beach volleyball champion, Albert "AL-B" Hannemann, Volleyball Vacations offers volleyball enthusiasts an opportunity to meet, improve their skills, socialize, and even play with the best pro beach volleyball players and coaches in the world.
The 2014 event enjoyed more than 100 participants from across the U.S., with loyal returners from Scotland, Austria and Canada. Fans played alongside the following pros and coaches:
Chelsea Hayes – NVL Pro and 2014 Rookie of the Year
Tarin Keith – NVL Pro
Mark Kerins – 2X Pro Beach Volleyball Champion
Andy LoCascio – NVL Pro
Drew Mallin – 2014 Most Improved Player
Piotr Marciniak – 2014 Most Offensive Player
Jennifer Snyder – NVL Pro
Karolina Sowala – 2014 NVL Women's Tour MVP
Attendees took part in an action-packed week which included QOB and KOB; mixed 4's with the pros; mixed doubles and doubles tournaments. Daily clinics with the Pros were very popular along with the Pro-Am play each day. Winners from tournaments throughout the week were able to pick a pro to play with and battle it out in Saturday matches where 1st and 2nd place participants were awarded custom medals given by the Pros. The week included theme nights, costume-themed parties, group dinners and evening beach parties.
Club Med's Kevin Batt, Vice President Operations, Product & Development, was on-site to give away a free seven-night stay at the Club Med Sandpiper Bay location where the winner has the opportunity to train at NVL's Beach Volleyball Academy and experience the resort.
With the focus now shifting to the NVL Club Med Academy in Port St. Lucie for the next few months, these vacationers are booking their flights to spend their winter vacations in the sun playing with the NVL Pros.
2015 Volleyball Vacations will be held at Club Med in Florida, Bahamas, and Turks and Caicos Islands, and Hawaii.
For more information go to www.volleyballvacations.com or www.clubmedacademies.com.