PORT ST. LUCIE, Fla. (December 9, 2014) – The National Volleyball League (NVL) hired beach volleyball professional Piotr Marciniak to join the coaching staff at NVL's Club Med Academy in Port St. Lucie, FL. Marciniak brings more than a decade of experience in professional volleyball and sports management.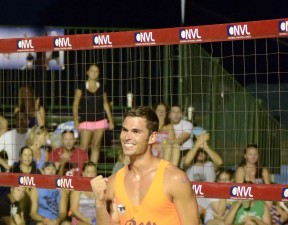 "I'm excited to coach full time at the NVL Club Med Academy and contribute to the training and mentoring of these young athletes," commented Marciniak. "NVL continues to be at the forefront of junior and amateur development, providing opportunities to practice and compete at a high level which is critical to the long-term growth of the sport."
As an international and domestic player, Marciniak has nine career top three finishes including 3rd place at the U21 Beach Volleyball Swatch World Championship, and two first place finishes on the NVL pro tour – 2013 "Best of the Beach" in Las Vegas and 2014 Midwest Championships in Ohio. Marciniak was named the NVL "Best Offensive Player" in 2014 and along with partner, Matt Henderson, recognized for the 2014 "Best Upset of the Year" at the NVL Midwest Championships.
Prior to joining NVL's Club Med Academy, Marciniak was a beach volleyball coach at BeVolley Academy in Florida where he trained both juniors and top female professional players, in addition to developing tournament schedules and overseeing administrative and budgetary functions. Concurrently, he acted as a consultant to Webber International University and worked with partner BeVolley Academy to analyze and recommend business solutions to help increase revenue.
Marciniak obtained an MBA in Sports Business Management from Webber International University in the U.S. and a Bachelor of Science degree in Physical Education from University of Technology in Poland. He also holds a certificate in Therapeutic Massage from ZAK Massage Therapy School.
"We are dedicated to providing our Club Med Academy athletes with access to the premier volleyball facility in the U.S. and top-tier coaches and trainers," said NVL Founder and CEO Albert "AL-B" Hannemann. "Piotr's experience and expertise as both a current pro player and coach will be a tremendous benefit to these juniors and foster their success giving them the best opportunity to play in college and beyond."
The NVL Club Med Academy includes 8 premium beach volleyball courts and is the hub of high performance training in the U.S. The Academy is also home to clinics, camps, junior and adult NVL tournaments, seminars and accreditations, collegiate competitions, and NVL and international events throughout the year.
Club Med Sports Academy offers a specialized boarding school for student athletes who come from around the world to train in their chosen sport and go to school. The students enrolled at the Club Med Academy represent more than 60 countries. This integrated academic and athletic training curriculum offers a College Preparatory program as well as high performance training for volleyball, tennis, golf, triathlon, running and fitness. Click here for more information about the NVL Club Med Academy beach volleyball program.
About National Volleyball League
Established in 2010, the NVL is a professional beach volleyball league built by players for all players, united in one mission: to create a sustainable future for pro beach volleyball in the U.S.
Home to eight professional events in 2015, a grassroots series, and the NVL Club Med Beach Volleyball Academy, the NVL is the only national platform for current professionals and players of all levels to showcase their talents and pursue their aspirations in the sport. With sand volleyball now a sanctioned high school sport and the NCAA's fastest-growing emerging sport in history, the NVL is building the infrastructure for young players to achieve their dreams.
For more information about the NVL, please visit: www.thenvl.com, view the NVL 2014 sizzle reel or follow on Facebook, Twitter and Instagram. NVL's VB Soul magazine may be viewed here.
###