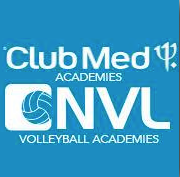 **Watch parents and fans celebrate the team's victory here!**
PORT ST. LUCIE, Fla. (February 6, 2015) – The Club Med NVL Volleyball Academies Girls 14U indoor/sand team took first place at the Daytona 100 indoor tournament held from January 31 – February 1, 2015. The team went 3-0 in pool play on Saturday and 4-0 on Sunday to be crowned champions. This is only the second tournament the Club Med NVL Academies 14U team has played together.
The Daytona Beach 100 is a two-day junior girls' volleyball tournament and was held at the Arena and Exhibit Hall of the Ocean Center in Daytona Beach, FL. Teams from across the country competed in the tournament which was sanctioned by USA Volleyball and the Florida Region of USA Volleyball.
"We finished 5th place in our first tournament together just a few weekends ago so it shows a lot about our team's maturity to be able to win it all in Daytona," stated Club Med NVL Volleyball Academies Director and head coach Albert "AL-B" Hannemann. "We are the first-ever indoor and sand club team that trains at the Academy on both surfaces year round. The team works extremely hard and takes pride in what we are building together. It's exciting to share these great experiences with our girls and we are enjoying every minute of it."
Outside hitter Emery Pillsbury said, "Our coaches prepare us to win and we expect to win every time we step on the court. They give us the confidence to believe in ourselves and our teammates. I love being on this team and representing Club Med NVL Volleyball Academies. Winning the tournament was one of the best feelings in my life but we know we have a lot of work to do. I'm so thankful that my parents allowed me to join this Academy!"
Club Med NVL Volleyball Academies includes 8 premium beach volleyball courts and is the hub of high performance training in the U.S. The Academy is also home to clinics, camps, junior and adult NVL tournaments, seminars and accreditations, collegiate competitions, and NVL and international events throughout the year.
About National Volleyball League
Established in 2010, the NVL is a professional beach volleyball league built by players for all players, united in one mission: to create a sustainable future for pro beach volleyball in the U.S. Home to eight professional events in 2015, a grassroots series, and the Club Med NVL Volleyball Academies, the NVL is the only national platform for current professionals and players of all levels to showcase their talents and pursue their aspirations in the sport. With sand volleyball now a sanctioned high school sport, the NCAA's fastest-growing emerging sport in history with 50 schools sponsoring it as of January 2015 and a Division 1 approved championship, the NVL is building the infrastructure for young players to achieve their dreams.
For more information about the NVL, please visit: www.thenvl.com, view the NVL 2015 sizzle reel or follow on Facebook, Twitter and Instagram. NVL's VB Soul magazine may be viewed here.
About Club Med Sports Academy
Club Med Sports Academy offers a specialized boarding school for student athletes who come from around the world to train in their chosen sport and go to school. The students enrolled at the Club Med Academy represent more than 60 countries. This integrated academic and athletic training curriculum offers a College Preparatory program as well as high performance training for volleyball, tennis, golf, triathlon, running and fitness. Click here for more information about the Club Med NVL Volleyball Academies' program.
###