Watch the NVL Finals Preview!
The top teams are dominating going into finals day at #NVLMadBeach. On the men's side, the morning will start off with Palm/Mallin (1) vs Hinchey/Vandenburg (4) and Schoonover/Russell (3) vs Henderson/Marciniak (2). Women's teams Niles/Sowala (1) vs Hayes/Snyder (4) and Harris/Stubinski (3) vs Batt-Rohr/Piantadosi-Lima (2) will go head to head to see who gets a quarterfinals spot. There are still plenty of great teams looking to make the jump from the contender's bracket. Follow all of the brackets here.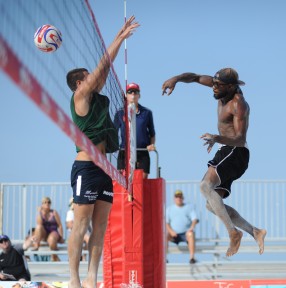 Center court matches will be aired live at 8:30 am through the finals today at TheNVL.TV
Today's full schedule:
9:00am – Quarter & Semi-Finals
12:00pm-1:30pm – NVL RIZE & PlayFIT Foundation "Clinic with the Pros"
2:30pm – Women's Finals
4:00pm – Men's Finals
The Madeira Beach Championships is one of eight professional events on the NVL calendar in 2015. Remaining tournaments include:
Date                            Event                                                              Location
May 29-31                   Ocean City Championships                        Ocean City Beach, Md.
July 10-12                   IndyFest Championships                           Milwaukee Mile – Milwaukee, Wisc.
July 17-19                   Midwest Championships                           The Beach Water Park – Mason, Ohio
August 6-8                  Hermosa Beach Championships                Hermosa Beach Pier – Hermosa Beach, Calif.
August 27-30              Seattle Championships                             Alki Beach – Seattle, WA
September 24-26        Players Championships                            Club Med Sandpiper Bay/NVL Volleyball Academies – Port St. Lucie, Fla.
The NVL is currently sponsored by Australian Gold, Bud Light, Club Med, Gatorade, Menards, Mikasa Sports, The ONE Group, and Polaroid.
For more information about the NVL, please visit: www.thenvl.com, view the 2015 sizzle reel or follow on Facebook, Twitter and Instagram. NVL's VB Soul magazine may be viewed here.
About National Volleyball League
Established in 2010, the NVL is a professional beach volleyball league built by players for all players, united in one mission: to create a sustainable future for pro beach volleyball in the U.S. Home to eight professional events in 2015, a grassroots series, and the NVL Club Med Beach Volleyball Academy, the NVL is the only national platform for current professionals and players of all levels to showcase their talents and pursue their aspirations in the sport. With sand volleyball now a sanctioned high school sport, the NCAA's fastest-growing emerging sport in history with 50 schools sponsoring it as of January 2015 and a Division 1 approved championship, the NVL is building the infrastructure for young players to achieve their dreams.
###