By DUSTIN KENT | News Herald Writer | Twitter: @PCNHDustinKent
Published: Wednesday, March 18, 2015 at 07:30 PM.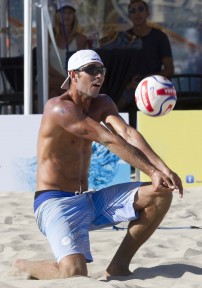 PANAMA CITY BEACH — With the beginning of the National Volleyball League's first tournament of the 2015 tour comes the arrival of some of the top beach volleyball players in the country.
Among those are the Po lish pair of Piotr Marciniak and Karolina "Kaya" Sowala, the reigning Offensive Pl ayers of the Year for the NVL.
Neither competed in Wednesday's qualifier matches, but both will be in action today when the main draw matches begin at 9 a.m. and each will be looking to set the tone for another big season.
"My expectations are really high," Marciniak, 28, said Wednesday. "I'm really excited and stoked about the tournament. I've been waiting for this tournament for so long. I'll be playing with Matt Henderson again this season and we realize the competition this year will be at a much higher level, much better than last season. That's why it's so exciting.
"But my expectation stays the same, which is that I want to win every single game, every single match, and if possible every single tournament. I aim to win everything that's possible."
Sowala, 27, was the MVP of the NVL last season on top of being the Offensive Player of the Year, winning five of the six tournaments she competed in.
Replicating that success this season will be no easy task, especially playing with a new partner in Brooke Niles, but she said there is no reason to believe she can't do it again.
"Last year was really good for me. I set the bar really high," Sowala said.  "I'm trying just to do what I did last season when I made the final of every tournament. To get in the finals (in PCB) would be great. That's what I'm reaching for."
Both Sowala and Marciniak are entering into their third seasons on the tour, though Sowala has been playing professionally for six years and Marciniak for eight.
Each has represented the Po lish national team, with Marciniak winning a bronze medal in the U21 Volleyball World Championships in 2006, and Sowala taking the bronze in the U21 World Championships in 2008.
However, both said that they're not too focused on trying to get back to wearing the red and white of their home nation in international competition, but are rather focused on making the most of their opportunity with the NVL.
"We're really happy competing in the NVL," Sowala said. "It's a great chance for us. We get to increase the level of competition and the money is so much better every year. They really treat the players like we're all a part of a big family."
While staying busy on the tour, both Sowala and Marciniak also find time to work as coaches for the NVL's Club Med Academies in Port St. Lucie, and both will participate in Saturday's teaching clinic for kids.
"We enjoy playing and coaching probably at the same level," Sowala said. "It's great to see teach the game and see young kids make progress. We're trying to grow the game and the program we coach for helps kids a lot."
Said Marciniak: "We're excited to work with kids from a different area (Saturday). We know all the kids from Port St . Lucie, so we're excited to meet the kids from Panama City Beach and get to work with them."
The tournament ends Friday with the men's finals at 1 p.m. and the women's finals at 2:30 pm