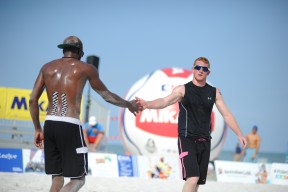 The men's duo of Skylar DelSol and Jeff Samuels has quickly become a team to watch on the 2015 pro tour. Losing a tough three game match in the Madeira Beach Championships finals to two-seed Matt Henderson and Piotr Marciniak, DelSol and Samuels know that the difference between 2nd place and the coveted NVL trophy could simply be more playing time together.
The pair played their first tournament together in Panama City Beach where they finished 7th place and admittedly, did not have an opportunity to train prior to the event. Samuels recently moved to Colorado where DelSol resided, and reached out to him to see if there would be an interest in partnering because he knew DelSol to be one of the best in the area. Similarly, DelSol didn't know much about Samuels or the NVL, but took a leap of faith because he had heard good things about both.
Samuels described their play in Panama City Beach as, "rough around the edges but we battled." The team headed back to Colorado with a better understanding of their style of play and made adjustments with a focus on defense. A major change was moving Samuels from the left side of the court to the right for Madeira Beach.
Fast forward to the Madeira semi's, DelSol and Samuels faced one-seed Drew Mallin and Dave Palm. Mallin, NVL's 2014 Most Improved, and Palm, Panama City Beach champion and 2014 Breakthrough Athlete, were a dominating team on the 2014 tour. But DelSol and Samuels found a way to nail down Mallin/Palm's offensive strategy and used this against them in defensive schemes. The match went three games, 14-21, 21-15, 16-14.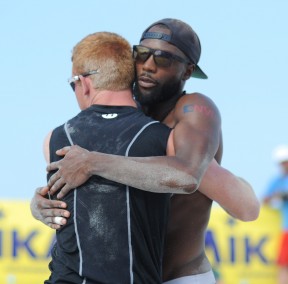 Neither DelSol or Samuels had ever played against their Madeira finals opponent, Marciniak/Henderson. "We knew Piotr had a big block we'd have to work around, and Matt is super consistent; he plays very smart and places shots well," the two commented. Ultimately, DelSol/Samuels lost in the finals 21-19, 18-21, 15-12 but were pleased with how far they'd come in a short time. Both agree switching sides was a key factor to their success in Madeira but feel that their strong work ethic and willingness to train harder than anyone else, is what will set them apart in the long run.
"We're training against each other and competing in local tournaments to prep for Ocean City," DelSol said. "Jeff and I just got done playing in a New Mexico tournament with different partners which was helpful to spot each others weaknesses and make adjustments when we play together."
After talking with the pair, there's no denying their passion for the sport and drive to be the best. "We're doing everything we can to position ourselves for success," Samuels commented. "But at the end of the day, we're just thankful for the opportunity to play and appreciative of what the NVL is doing to grow beach volleyball. Michigan and Colorado aren't volleyball meccas so for guys like us that didn't grow up on the beach or play for a top college program, this tour is giving us a shot to compete at the top."
So, what are their expectations heading into the Ocean City Championships later this month? DelSol and Samuels laugh, "A 'W' of course."
Check out the full schedule for the Ocean City Championships taking place May 29-31, 2015.
Watch This Awesome Point: Madeira Beach Championships – DelSol/Samuels vs Henderson/Marciniak