NVL RIZE amateur series to host concurrent tournament & clinic 
CINCINNATI, Ohio – The National Volleyball League (NVL) is returning to The Beach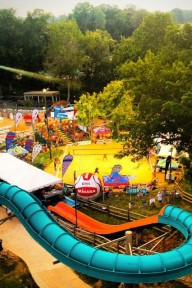 Waterpark from July 16 – 18 to host the Midwest Championships, the fifth stop on the pro tour this season. The tournament will include a 16-team draw per gender with teams battling for a $50,000 prize purse. Tickets are available for purchase here and at local Menards locations. NVL RIZE, the league's official amateur series, will also host a Clinic with the Pros on Thursday, July 16 followed by a tournament Friday and Saturday, with finals being played on center court at The Beach Waterpark.
"We're looking forward to being back at The Beach Waterpark and giving fans a chance to see some of the best pro beach volleyball players in the world compete," commented NVL Founder and CEO, Albert Hannemann. "Our junior tournament is also very competitive, drawing in top teams from the more than 20,000 kids playing in the Ohio Valley Region."
"The Beach is excited to host the NVL again this summer and offer our visitors access to this unique event experience, said Hank Woodburn, President and Owner of Adventure Holdings, and The Beach Waterpark. "Beach volleyball is the perfect complement to the wide variety of rides and activities families can take advantage of at the park while surrounded by palm trees, real sand and real surf."
Midwest Championships Event Highlights:
Thursday, July 16
9AM-Dusk                  NVL PRO Qualifier Competition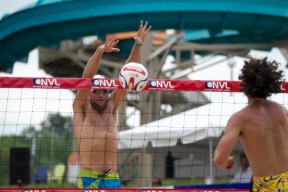 4PM – 5:30PM          NVL RIZE Clinic with the Pros
Friday, July 17
9AM – Dusk               NVL PRO Main Draw Matches
9AM – Dusk               NVL RIZE Tournament Matches
Saturday, July 18 
9AM                            NVL PRO Main Draw Matches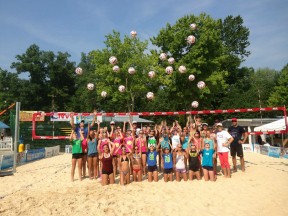 9AM                            NVL RIZE Tournament Matches
3PM*                          Women's Finals
4PM                            NVL RIZE Finals
4:30PM*                    Men's Finals
Post Men's Finals        Players Party
*Please note times are estimates and may be subject to change.
The tournament will be live streamed for free on the NVL Network. Full NVL Midwest Championships event details can be found here. The official NVL Midwest Championships hashtag is #NVLMidwest.
The Midwest Championships is one of eight professional events on the NVL calendar in 2015. Remaining tournaments include:
August 6-8: Hermosa Beach Championships – Hermosa Beach Pier – Hermosa Beach, CA
August 28-30: Seattle Championships – Alki Beach – Seattle, Wash.
September 25-27: Players Championships – Club Med Sandpiper Bay/NVL Volleyball Academies – Port St. Lucie, Fla.
The NVL is currently sponsored by Australian Gold, Bud Light, Club Med, Gatorade, Menards, Mikasa Sports, The ONE Group, and Polaroid.
For more information about the NVL, please visit: www.thenvl.com, view the 2015 sizzle reel or follow on Facebook, Twitter and Instagram. NVL's VB Soul magazine may be viewed here.
About National Volleyball League
Established in 2010, the NVL is a professional beach volleyball league built by players for all players, united in one mission: to create a sustainable future for pro beach volleyball in the U.S. Home to eight professional events in 2015, a grassroots series, and the NVL Club Med Beach Volleyball Academy, the NVL is the only national platform for current professionals and players of all levels to showcase their talents and pursue their aspirations in the sport. With sand volleyball now a sanctioned high school sport, the NCAA's fastest-growing emerging sport in history with 50 schools sponsoring it as of January 2015 and a Division 1 approved championship, the NVL is building the infrastructure for young players to achieve their dreams.
###