Posted on Friday, June 5th, 2015 by Kara Hallissey
The National Volleyball League hosted a successful inaugural pro and amateur tournament with a junior clinic last weekend in Ocean City.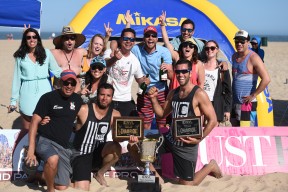 May 29-31, professional beach volleyball players from around the world converged in Ocean City to compete for a $75,000 prize purse. The tournament on the beach between Talbot and Dorchester streets consisted of 38 men's and 25 women's teams.
Ocean City was the league's third stop of the 2015 season.
Eric Haddock and Roberto Rodriguez-Bertran of Puerto Rico, and Kristen Batt-Rohr, of Florida and her partner, Brazilian Priscilla Piantadosi-Lima, were the men's and women's division winners during Sunday's championships.
Sixteenth seed Haddock and Rodriguez-Bertran made an appearance in the Panama City Beach Championships earlier in the year and battled seven-seeded Skyler McCoy of California and Eric Zaun of New Jersey, in the Ocean City finals. They won 21-16, 21-18.
Second seed Batt-Rohr and Piantadosi-Lima continued their domination with a second consecutive win on the 2015 NVL tour and upsetting the No. 1 seed and Panama City Beach champions, Brooke Niles of California and Karolina Sowala of Florida, 22-20, 21-18.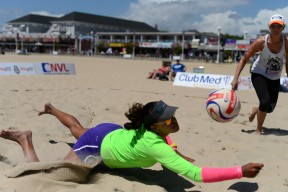 "The NVL had a great time in Ocean City and we hope to be back next year. Since the Dew Tour isn't returning to Ocean City, we hope to be the major summer event for the area," said Albert Hannemann, founder and CEO of the National Volleyball League. "Ideally, we would come back in late June to capture a greater audience with kids being out of school."
Many people pulled up beach chairs on the exterior courts or walked up to watch for a while, which made it difficult for organizers to track the attendance number.
"We did have a good attendance flow throughout the weekend with amazing feedback onsite from attendees and on social media," Hannemann said.
The National Volleyball League partnered with the Baltimore Ravens to host a "Clinic With The Pros" at the Clarion hotel on 101st Street during the fourth annual Ravens Beach Bash. Professional volleyball players, Niles and Sowala, joined Ravens' players and cheerleaders, to teach skills, hand out prizes and sign autographs.
"The Ravens clinic had a good fan turn out and we're hoping to partner with them again next year and do even more during their annual event," Hannemann added.
The Ocean City Championships is one of eight professional events for the NVL in 2015. Remaining tour stops are in Milwaukee, Cincinnati, California, Seattle and Florida.
The National Volleyball League was established in 2010 and built by players to create a sustainable future for pro beach volleyball in the US.
NVL is the only national platform for current professionals and players of all levels to showcase their talents and pursue their goals in the sport.
Visit www.thenvl.com for more information.