Karolina "Kaya" Sowala is starting off the 2016 season right, pairing up with NVL champion Raquel Ferreira. Take a look at this exclusive interview for a preview of what this season has in store.
How did you break into beach volleyball?
It wasn't until I was 17 that I started playing beach volleyball. In Poland, we played indoor until summer. But summer in Poland is only two months long, so we didn't get a lot of time on the sand. Our indoor coach had us play beach to keep us in shape during the off season. We loved these two months. One of the national coaches met me during the summer. In 2006, he gave me an offer to play for the national beach team in Poland. The following year, I decided I wanted to focus on beach full-time.
How did you train for beach in Poland with the difficult weather conditions?
I grew up in Central Poland, Lodz. During the cold winters, we would go to Brazil and the states to train for two months at a time. We'd then go back and forth from Poland. There was an indoor beach facility with sand that we used to practice at but we didn't like it because it doesn't incorporate the wind or heat elements of beach volleyball.
Do you come from a family of athletes?
My father played professional soccer, so sports were always around in our family. We are an incredibly competitive family all around. My cousins played sports and we always wanted to prove that we were better than one another.
Was your family supportive of your decision to play professionally?
My family was very supportive. My father was the first person to tell me to go professional. I am tremendously grateful for that. They travel to watch me. They are always checking my results online. I can feel the love coming from Europe whenever I'm on the court.
Can you take use through a few monumental moments in your athletic career?
I began playing youth FIVB events, 21 and under. I played five years in a row. When I turned 21, I played my first FIVB professional event. I believe this one was in Poland.
"We played SO poorly. We played against the seed #1 team, with a score of 21-3, 21-5… but a great experience overall

.

"
Did you ever question your decision to play professional sports?
In 2012, my partner Monika and I tried to make the Olympics, but we didn't qualify. This was a very difficult time in my career because I didn't know if I should proceed or quit sports all together. After I played indoor for one more year, I knew beach was the sport I loved the most. When the season finished, I was on my way to the States to continue my beach career.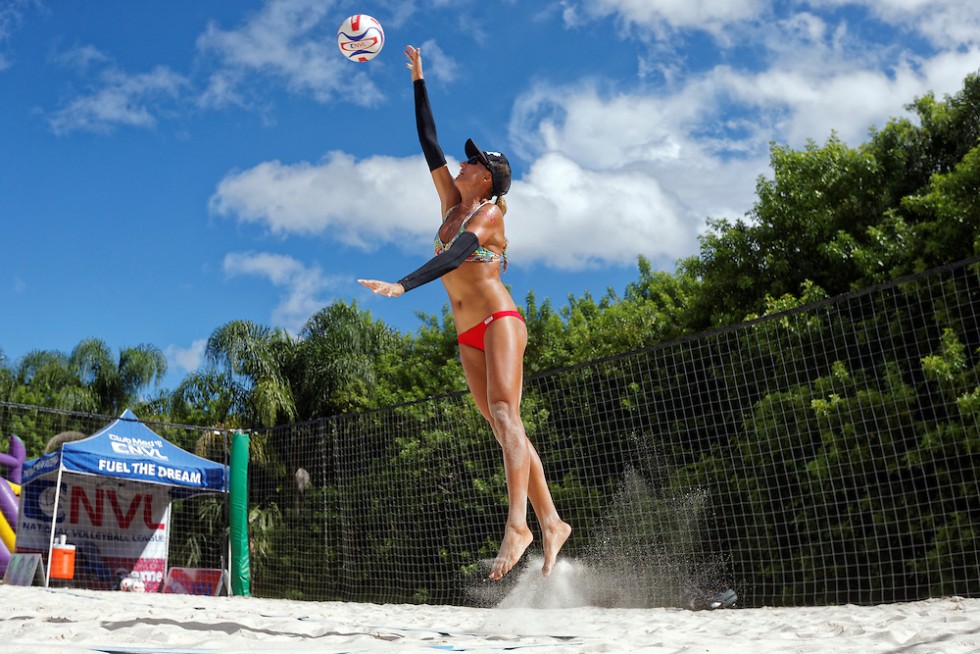 What made you decide to start playing on the NVL? What has your experience been like so far? What are the benefits to playing on a tour like the NVL?
I found out about The NVL in 2013. Capri Grotowski was my partner at the time. Actually her husband played for Olympic games in Great Britain. When I got to the states, she told me about The NVL. We played our first event in Ohio and took third. We were so happy. At this point, we just wanted to play as much as possible. I decided to play in the Queen of the Beach in Las Vegas and won. From that point forward, more people became aware of who I was and started to put offers out to play with me.
"In 2014 I teamed up with Priscilla Piantadosi-Lima. That was our first season together which was great because we won almost everything."
When did you get involved with NVL Club Med Academies?
I joined the team at Club Med in January of 2015. I've always enjoyed working with kids. It is so much fun. It gives me a lot of energy and makes me want to do more and more.
Last season, you played with Brooke Niles, taking first in two out of the six tournaments. This season you will be playing with Raquel Ferreira, another high ranking NVL player. Are you looking forward to this? What should we expect to see?
Partnering with Raquel is going to be a great experience. She is a great player and I think we will have a strong partnership on the court. While deciding who I wanted to partner with this season, I wanted to make sure I would play with someone I could learn from, and I think Raquel is that.
"The main reason I wanted to play with her is for my personal development. I'm not too old to stop learning. I still have a lot time for improvement and I look forward to learning from Raquel."
What are you working on with Raquel this season?
We are trying to figure out our blocking/defense strategy – how well we can work together. My block wasn't great last season, so I'm trying to emphasize block training during our preseason. For Raquel, I think she will make job easier as a defender.
What do you expect for the future of the sport?
I believe that the sport is growing so extremely fast. With the college programs growing so quickly and college graduates coming to the NVL tour, the competition is only going to get better. I would like to see more programs for young men and youth at the high school level and then work to grow this. There are so many people in the states who would love to play the sport but don't know about it yet. Through The NVL tour and Club Med Academies, it is helping to bring awareness of the sport to our athletes at a younger age.
Any mottos you will be living by this season?
This season… "One day at a time, one tournament at a time." We are a new team and building from the ground up.