CONGRATULATIONS to beach volleyball newlyweds Kaya Marciniak and Piotr Marciniak on their marriage. Everyone wants the inside scoop on this picture-perfect couple… and we have it. Take a look at this exclusive interview with Kaya about how the magic happened!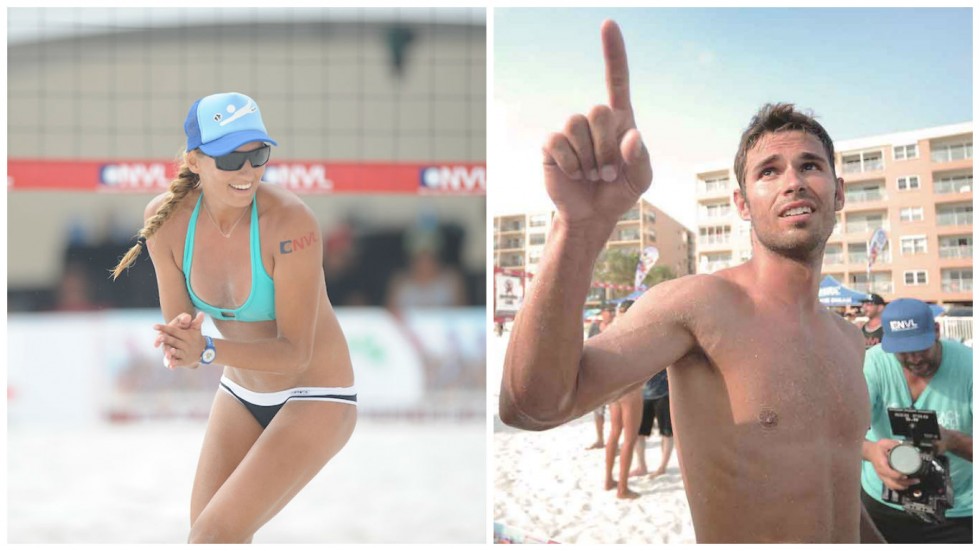 Hi Kaya! Let's go back to the basics. Tell us how you and Piotr met!
Piotr and I have known each other for over ten years. We met back in Poland when we both played for the National Team. He played beach volleyball between his indoor seasons and I was doing beach full-time at that point. We didn't really see each other much, especially because I was traveling a lot and he played a season in Egypt! We were always very good friends supporting each other no matter what.
The question we are all dying for you to answer: How did Piotr ask you to marry him?
Honestly, we did not plan to get married this year. We thought about this a lot but did not come to a final decision. Some circumstances helped to speed things up. Everything was happening so fast that we didn't even have time to think about the engagement. However, on our wedding day Piotr proposed to me with a beautiful ring that I saw one day at jewelry store. He came back to that store when I left, bought it and was hiding it until the wedding day 🙂 That was probably one of the best moments of my life… and the ring is beautiful. 🙂
Doesn't get much sweeter than that! Do you have a honeymoon in the works?
We just started our summer season which is the busiest time of the year for us. With our commitment to the NVL tour, traveling with the juniors and working at NVL Club Med Academy there won't be much time to celebrate. However, in October, when the season is over and the kids are back at school, we are planning on going to Costa Rica to surf and enjoy Caribbean life.
Is the NVL what brought you together in marriage?
The NVL was a big part of it. I remember when I was going to play the Queen Of The Beach tournament in Vegas I was scared to go alone. I probably spent a couple hours on the phone with Piotr trying to convince him to come with me! Apparently I did a great job because he registered for the tournament 5 minutes before the deadline. And guess what? We both won! He owes me a big one for that!
At one point, I was planning on going back to Poland for good but we both got an offer from AL-B to work for the Academy – and of course we both accepted. So our experience being involved with the NVL has definitely brought us closer together.
There is a lot of NVL in both of our lives! 🙂
There certainly is!! The NVL doesn't run the same without you guys. Does love ever interfere with your game and your devotion to the sport?
Never! I am a very goal-oriented person. Nothing will ever stand in my way of achieving the goals I set for myself. In the past when I was still a teenager , I had to break up with my boyfriend because he interfered too much! 🙂
Now that I'm married and our life is stabling out, I will definitely take some time off to have a baby in a few years.
AWWWW!!! You know how glad we all are to here that! How is your work/life balance? What do you guys do outside of volleyball?
During the first year working at the Academy, it was pretty difficult to find time outside of work and training. Learning new things, organizing our schedules and planning for future schedules took up a lot of our time. We would work 70 hour weeks to make sure we weren't missing anything and that all of our players had enough of our attention. Once we really established our program, coordinated the activities, our jobs let up a little.
Spending time with our friends is the best kind of relaxation for us. We love having people over and just hanging out together.
Do you train together? If so, what skills does Piotr help you with? With skills do you help Piotr with?
We definitely train together frequently. It's the best motivation you can have – to do what you love with the person that you love. Piotr helps me a lot. He knows the game very well and he is a great coach. He expects me to do my very best at every practice. There are no breaks when I train with him. His expectations are always very high, which ultimately keeps me at the top of my game all of the time. This season, my focus is to improve my blocking skills. Having Piotr work with me makes it a little bit easier.
When I'm not playing myself, I always watch his games. We do a lot of analyzing together, breaking down the games to see which elements he needs to focus on and improve upon.
We've never won a tournament together. It is either him taking first or myself. We have a goal this season to bring home two golds!
What do you two have planned for your students at Club Med? What are you working on with your students?
Our periodization plan is set based on the time of the year or season. We work on certain elements during winter and others when summer season is approaching. We did a lot of strength and conditioning throughout fall and winter as well as individual skills. During the spring we focused on team development skills and strategy. We have a mental coach who works with the players on a daily basis. This is really a huge advantage of our program that other programs don't have. Our players have a clear vision of their game and their individualized goals.
Talk to us about your first tournament playing with Raquel.
I was very surprised with how great we played together. We didn't expect to win the first event. There were players working with each other for a long time that already have natural chemistry. We did not have a chance to train as much as we would have liked. However, our experience helped us in those crucial moments when the game was getting tight. There are so many great teams on this tour. Everyone will be playing better and better. We need this time together to feel each other on the court. I'm very excited to grow together.
What are some skills you will be working on for San Antonio?
After watching the games from Port St. Lucie, I think our setting in transition needs a lot of work. Block-defense relations are not perfect but that is a long-term goal. We will take one tournament at a time and focus on details to make the game smooth and solid.
THANKS KAYA AND CONGRATULATIONS!