It's a huge weekend here in Virginia Beach, for more than one reason. The annual Coastal Edge East Coast Surfing Championships will be taking place, along with the second to last stop of the NVL tour. It is safe to say, this beach will be bumping with surfers, beach volleyball players, live music, vendors and viewers. It is an especially big weekend for local NVL pro, Brandon Joyner. Joyner will be competing with Skyler Mccoy, and will have tons of family and friends here to support.
Here is the inside scoop: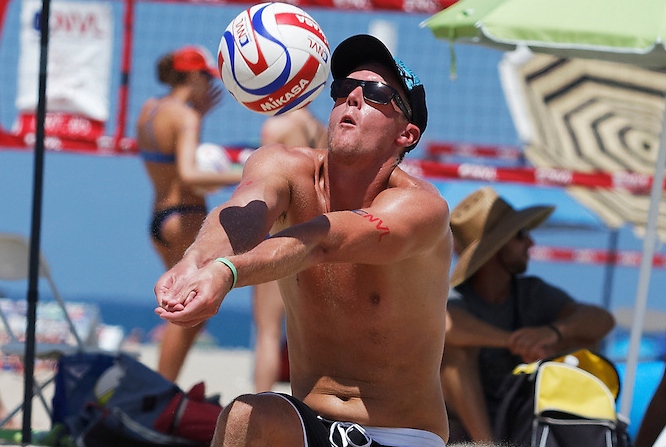 How did you first get into volleyball?
I grew up playing football, until my sophomore year of high school and then switched to volleyball – all of my friends were beginning to play. I first began playing volleyball at the Chester Recreation Association, a local pool and recreation center. My friends and I would go up there and play for hours at a time.  I was one of the younger kids to play, so I went a few summers without winning even a single game in tournaments.
What are the advantages and disadvantages to playing beach volleyball in Virginia Beach?
Virginia Beach is a great place to play during the warmer months. We have a lot of solid local tournaments and high level players in the area. The only disadvantage is that during the winter time, it can be difficult to find training time. We have an indoor facility at Tidewater Volleyball Association (TVA) that is starting to help players throughout the year. But generally speaking, the summer conditions will be very hot and humid. We get used to it for the most part.
Give us some background of your volleyball career to date.
I played indoor volleyball at George Mason University and then played two professional seasons in Europe. After I finished playing indoor, I decided to give beach volleyball a chance. This is my third season of playing beach full-time on the NVL tour.
How has your experience been playing for the NVL?
My experience with the NVL has been pretty amazing. My first year, I went to a few stops and qualified at most of the events, which was an awesome feeling. I started playing on the NVL in 2014 because I had gone to a tournament in Baltimore the year before and fell in love with the atmosphere. I wanted to be a part of the action! My favorite thing about being part of the NVL family is getting to see everyone at all of the tour stops. I have become pretty close with most of the players on tour so its always good to see everyone.
What are you most looking forward to with this tournament?
I'm super excited to be playing in my hometown. I'm hoping to have a lot of people behind me to help me have one of my best finishes to date. This tournament means a little more to me because I feel like I need to represent the area. It's always cool to have friends and family there to support you.
How has it been playing with Skyler Mccoy?
It's been great to be honest. Skyler and I have always gotten along pretty well so it's like playing with a friend. We try to concentrate on having a lot of fun and playing in the moment, which takes away all the pressure.
What are a few valuable things you've learned from having him as a partner?
Skyler has taught me a few things about being a road dog – from the road dog shower, to road dog deodorant. All aspects of being a road dog makes life a lot more simple!
Who was your biggest influence in volleyball and why?
I would say my biggest influences throughout my volleyball career have been everyone I played with at Mason. They all pushed me to be better and made me fall in love with the sport.
What has been your favorite moment of the Olympics thus far?
I really enjoyed watching Phelps and Bolt continue to dominate.
What is the best volleyball advice you've ever received and the most valuable lesson you could pass on?
Just learning to enjoy the process.  You have to love what you do.