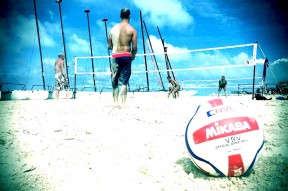 Providenciales, Turks and Caicos Islands November 27, 2013: The National Volleyball League sent its pros to the beautiful beaches of the Turks and Caicos Islands this past month for the week of November 2-9th.  GObeachfest, Volleyball Vacations, and Club Med are partners with the NVL and multiple times a year hosts volleyball and sports vacation events at exotic locations. At these all-inclusive vacations fans have the opportunity to play and socialize with Olympians and some of the biggest names in the sport. These participants spend a week at these locations and play in tournaments, are coached in clinics, enjoy exhibition matches with the Pros, and get to play with the Pros in a fun open format throughout the week.
Tom Garrow of San Antonio, Texas said, "I couldn't believe I actually was coached and taught  how to play the sport correctly from these incredible Pros. I couldn't imagine a vacation ever being better than this as we met so many great people from all over the world and got to hang with my favorite pros on the beach, at dinner and at the parties. It's so well organized and the 1 Pro per 8 guests ratio made it easy for all levels to learn so much from the biggest names in the sport. I can't wait to go to Hawaii in February and do it again!"
World Champion and legend Sinjin Smith, 2012 Olympian, 2013 NVL Dallas Champion Josh Binstock and 2013 NVL Hermosa Beach Champion Christie Jenkins along with 10 more NVL Pros enjoyed a week in paradise with a 120 beach volleyball players of all levels.  In addition to all of the volleyball these players/participants had the opportunity to experience other sports and activities including scuba, stand up paddle board, yoga, trapeze, sailing, Pilates and much more.
World champion and Olympian Sinjin Smith stated, "I love coming on these trips and sharing my knowledge of this great sport we all love so much. These volleyball vacationers and Pros become such good friends throughout the week and it's set up in a way that brings everyone together no matter what your skill level is and focuses on having fun. I have been around this sport my entire life and you will never find a better vacation if you love beach volleyball and like meeting great people."
Below are a couple of videos to give you a better understanding about these amazing trips!
Block Party – Volleyball Vacations Style: http://www.youtube.com/watch?v=VN8n3DqITDA&list=UUWBsufOUjWqS8jpJ7H8eDzA
Volleyball Vacations 2013 – What's not to like? http://www.youtube.com/watch?v=vqNOX13fwOc&feature=c4-overview&list=UUWBsufOUjWqS8jpJ7H8eDzA
Go to www.volleyballvacations.com for more information and to see details on the next trip to the beautiful island of Oahu on February 22- March 2, 2014.