The new NVL Club Med Academy announces accomplished U.S. beach volleyball professional and Brooke Niles as its head coach.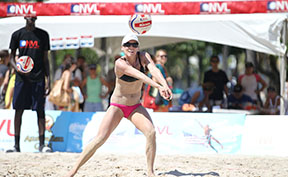 Niles' extensive background spans decades. As a player, she ranked in the top 10 domestically for seven seasons, was Defensive Player of the Year in 2009, won three events and had 30 career top 5 finishes. In 2012, she finished third behind the U.S. teams who went on to win Gold and Silver medals at the London Games.
As a coach, Niles brings 10 years of experience including 3 years as an assistant at UC Santa Barbara under her mentor Kathy Gregory, who tallied 50 beach volleyball titles as a player.
"I'm so excited to be apart of the NVL Club Med beach volleyball academy," says Niles. "Juniors are the key to growing the sport and The NVL has figured out how to separate itself and offer something new to develop these kids' skills and increase their opportunities to compete. We are packed every day here with over 1000 new guests every week coming to Club Med getting an opportunity to see and play with the Pros in a beautiful atmosphere."
"Brooke brings a wealth of knowledge of the game both from her experience as a player and her coaching background and we're so thrilled to have her," says NVL Founder and CEO Albert "AL-B" Hannemann. "The 8 court facility is the only beach volleyball academy in the United States and we are proud to partner with Club Med on this incredible facility where Brooke and our coaches can make an huge impact in developing this sport."
Club Med Academies (CMA), headquartered at Club Med Sandpiper Bay in Port St. Lucie, Florida, is the world's foremost authority in high performance sports training and a global platform for developing and educating the next generation of youth, high school, collegiate and pro athletes.
Club Med Sports Academy offers a specialized boarding school for student athletes who come from around the world to train in their chosen sport and go to school. The students enrolled at CMA represent more than 60 countries. This integrated academic and athletic training curriculum offers a College Preparatory program as well as high performance training for volleyball, tennis, golf, triathlon, running and fitness.
Check out www.clubmedacademies.com for more information about this exciting new volleyball program.