National Volleyball League caught up with pros Josh Binstock and Sam Schachter to chat about their recent success after taking home the silver medal in Porec, Croatia on the FIVB world tour, and how they're preparing to make a run for the 2016 Olympic Games.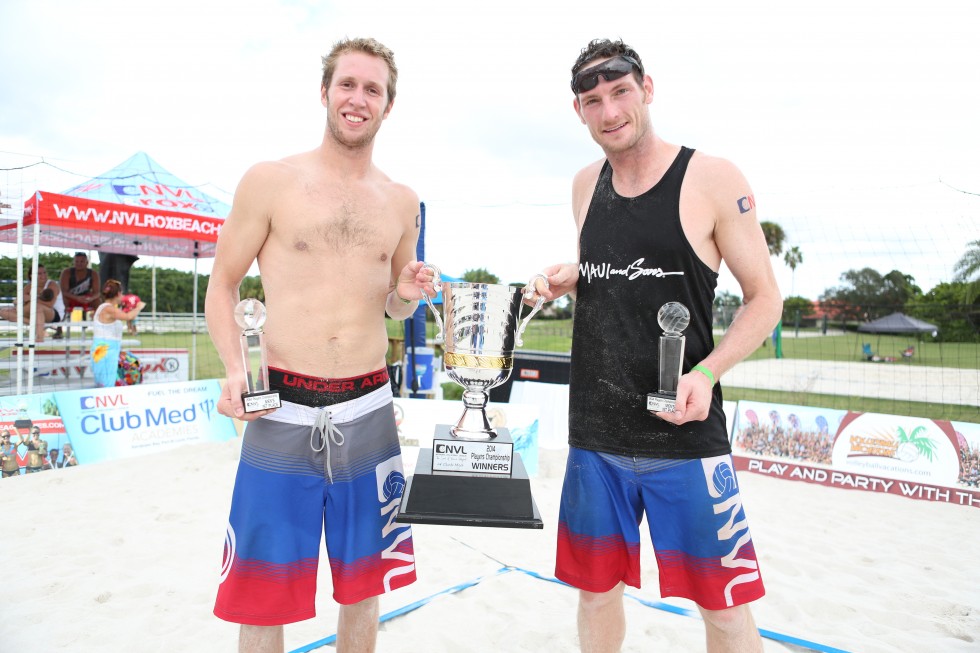 How does it feel to win the silver medal and be playing at such a high level so early in the season?
Josh Binstock: It obviously feels amazing to win the silver medal at a grand slam but we know the tour has so much parity and everyone is so good that any team can beat anyone on any given day.  Sam and I know we can beat anyone in the world but we also know we can get beat by any team in the world if we're not sharp. We use this confidence on the court to try and be consistent.
This is a big step in the right direction to qualify for the Olympics. How do you qualify and what is the process for those of us that want to follow your road to the Olympics?
Binstock: Indeed, it's huge. To qualify you need to be ranked in the top 16 in the world by the cut-off date, which is halfway through next season.  The FIVB takes a team's best eight results and averages them out.  The team needs to play at least 12 events together. If you don't fall in the top 16 with your top eight results, you can qualify through the Continental Cup, which is like a Davis Cup style tournament. If you don't win the Continental Cup, all the second place teams from each Continental Cup goes to a last chance qualifier for the final two spots.
What did you guys do in the offseason to prepare yourselves physically and mentally to be able to become one of the top teams in the world?
Sam Schachter: We trained in Canada and California for several months with our coaches and a few teams.  Josh and I trained in California last year as well but we dedicated more time there this year. Every tournament counts for us now and we're committed to investing more time to focus on getting even better.
How was the crowd in Croatia?
Binstock: The crowd was unbelievable! The energy and sheer volume of fans was inspiring to play in front of because you could sense how into the match they were.
Being the younger, more inexperienced player on the team, what do you do to make your team so hard to beat, and what does Josh bring to the table?
Schachter: Josh is definitely the more experienced player, while I'm still learning a lot about strategy and mental toughness in matches. Josh is able to bring stability to our game in the big situations. He's a rock I can lean on when there's pressure and he enables me to perform at my top level. I'm probably more physical and can be the x-factor, whereas Josh is the more consistent player.
Who has helped you get to this point so fast in your career?
Schachter: My family and friends are integral to my success. They give me the confidence to go out and compete. Playing for the people back home motivates me to win matches and keep pushing even when we're struggling. Of course all of my coaches have played a huge role in my development and preparation for the big stage.  This includes indoor coaches too, not just my sand coaches. Off the court, they have all taught my intangible lessons – emotional, psychological and physical.
What did playing on the NVL tour the past couple years do for you and Sam as a team, and individually?
Binstock: It helped us grow and improve as a team because we were able to have a tour to play on with high caliber competition and world class venues so we were able to get used to pushing ourselves through adversity, and also prepare for the FIVB tour.
What are your short-term goals this year?
Schachter: Josh and I are focused on finishing well in the Pan American Games in July. In addition to representing our country, this experience will be critical for us and extremely important for Olympic qualifiers because the tournament is worth more points.
Where has been your favorite place to play to-date and why?
Schachter: Croatia was an amazing, beautiful country and obviously playing well helps! The 2014 FIVB Paraná Open was also really memorable, taking home gold! This was only the second gold medal Canada had won in the history of the FIVB tour so it was awesome to make history for my country. It really enhanced the overall experience. I played in front of more fans there than I ever had in my life and it was a little overwhelming but all part of the process in preparing for the Olympics, which is the ultimate goal.