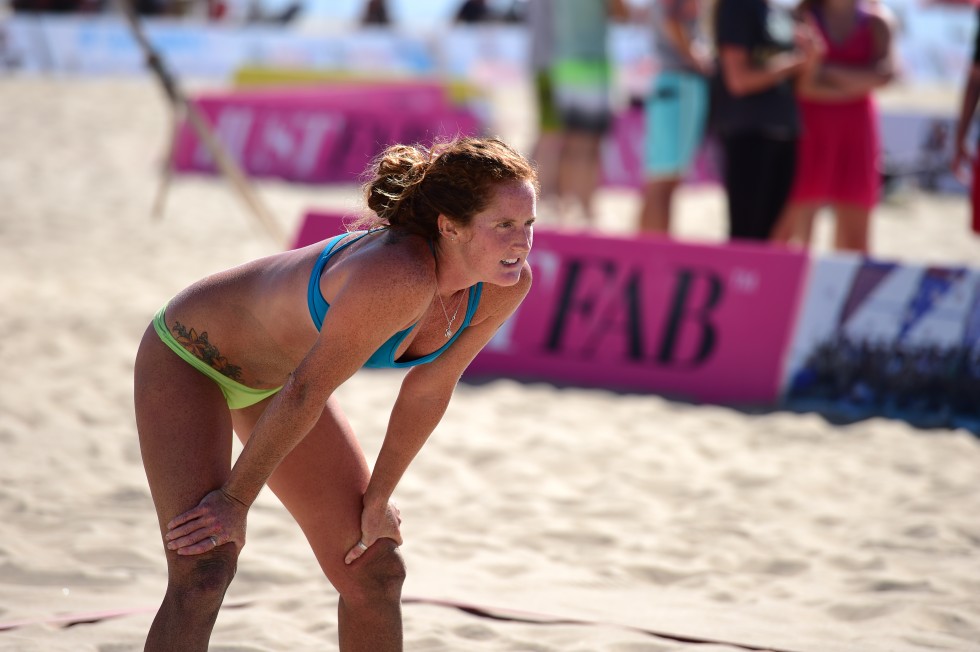 A recent graduate from the University of Hawaii and AVCA All-American, Brittany Tiegs admits that she wasn't exactly sure what she wanted to do post-college…except play volleyball. So naturally she was thrilled to get a call from long-time friend Chara Harris to partner with for the NVL tour this season.
"I first started playing beach around four or five years ago," Tiegs said. "Chara and I faced each other in several South Florida tournaments and even paired up for one, but then I was always back off to college. We kept in touch, and I have always looked up to her and knew I wanted to come back to Florida and play."
Harris' call came just in time for Tiegs to catch a last minute flight from Hawaii to Ocean City, Maryland where the NVL hosted its third stop of the 2015 season. The pair had time for a quick one-hour practice the evening before competition and Tiegs said they used the time to focus on communication, and learning each other's strengths and weaknesses.  "Chara is a great confidence booster," Tiegs commented. "She made sure we were scouting the other teams and keeping up on what was happening with everyone throughout the tournament."
Harris and Tiegs entered the tournament seeded ninth and took home an impressive third place finish. "We were obviously happy with the outcome in Ocean City given the short amount of time we had to prepare," Tiegs said.  "Chara and I are committed to playing the rest of the season together and hope to get in a lot more practice time."
Tiegs went on to share her excitement about playing on the NVL tour. "I followed the league while I was in college and appreciated everything I saw AL-B and the NVL team doing to grow the sport. NVL RIZE and the Club Med NVL Volleyball Academies are giving juniors and amateurs opportunities that I never had at that age; it's pretty awesome."
Residing in Stuart, Florida, Tiegs has already headed up the road to get in a few training sessions at the Academy and taken advantage of playing in local NVL RIZE tournaments.  Most recently, she paired up with NVL's 2014 MVP and Club Med NVL Volleyball Academies coach, Karolina "Kaya" Sowala, for the RIZE Adult Open last month and celebrated a first place win.
"It's important for me to continue training and competing at a high level so to be able to do this at a facility like the Club Med Academy and learn from some of the top coaches in the U.S., I feel really fortunate," commented Tiegs.
When asked about her goals for the rest of the season, Tiegs says she's focused on playing well and leveraging Chara's experience to get into a final, and win a championship. Tiegs' success in Ocean City combined with a fierce determination, certainly positions her for a bright future on the pro circuit, and we'll all be watching with excitement.
Mark your calendars to watch Tiegs & Harris and the rest of the NVL pros compete in Milwaukee this weekend! All center court main draw matches will be live streamed on The NVL Network.