By Sarah Spain – Contributor espnW.com
When the sun is out, professional beach volleyball player Molly Menard can usually be found on a court in Hermosa Beach, working on her game with new teammate Michelle More-Williams. After hours of work on the sand and training, Menard begins her second job, as CFO and co-founder of the National Volleyball League.
Menard's dual role as player and front-office member is unique (you don't see Roger Goodell suiting up on Sundays, after all), but it's one for which she's wholly qualified. The 29-year-old former University of Wisconsin-Eau Clare standout gets to scratch her competitive itch in NVL tournaments, while also putting to good use her business acumen, gained from years working in private equity.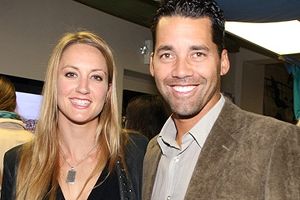 Menard first dipped her toe in the pro beach volleyball scene shortly after graduating from college, but after only four months living in Hermosa Beach she got homesick and moved back to Wisconsin.
"I was really lonesome," said Menard. "I didn't really have a job, I didn't find a good coach, it just didn't work out. I had never really been away from home when I moved out to California. I went to school in my hometown and I had only known working for my family business and being with my family, so it was kind of a big move."
After a year spent in Wisconsin working for Menard's, the home-improvement retailer founded by her father, Menard moved to Indianapolis to work for a private equity fund. She thought she'd be able to put volleyball behind her, but in 2010, four years into her stint in Indy, Menard still couldn't shake that dream of playing professionally.
"I realized I really missed it," she said. "So I started playing in a rec league. And sort of serendipitously and fortuitously, I ended up meeting my current business partner, AL-B, [Albert Hannemann] when he came to do a kids clinic at the courts I always played at."
Hannemann, a successful veteran beach player, was cooking up an idea to found a new professional beach volleyball league after the Association of Volleyball Professionals went bankrupt.
"We started talking and he told me about how he wanted to change the sport and create a league for the players, by the players, and fill in where the AVP had just left a giant, giant hole," Menard said.
It didn't take much convincing for Hannemann to bring her on board as co-founder and CFO.
"I think he knew I was somebody passionate enough to do this," Menard explained. "Like any entrepreneurs you have to be a little bit crazy to go 120% into something that has the potential to fail. He knew that I was willing to work hard at it and fill in the spots that he wasn't able to. He's great at the sales and the marketing piece, but I have the experience in private equity to mold the business plan and put the financial models together to make it successful."
There was just one more thing to settle before the deal was done.
"I told him he had to coach me in exchange for me helping him out," Menard said, laughing.
Hannemann agreed, and Menard headed back out West, this time with a job and the courage gained from several years on her own.
"Working for the private equity fund really kind of gave me a lot of confidence and a lot of business acumen to know what I wanted to do," Menard said. "I had my own life in Indy. It was good to step out of the shadow of the family business and really become my own person."
Menard was thrilled to get back to playing volleyball regularly, but building a new league from the ground up while also training was a grind.
"The first year was tough," she said. "I was up late trying to get everything paid and playing in the events, which was tough, focus-wise."
Menard also has benefitted from years spent observing her family's involvement in auto racing in the 1990s. Her brother, Paul, is a NASCAR driver.
"My family was always in Indy car racing," said Menard. "Ever since I was little, the sports marketing world has always been around. Seeing how to pitch sponsors, and from the Menard's side, getting pitched. I've seen what's important and what's not. It's about relationships and having that background, being able to show what you can bring to the table to a potential partner."
Menard avoids dealing with any player complaints by steering them to Hannemann, and says the seeding structure of the NVL prevents competitors from worrying about her getting an edge or any preferential treatment. She says if anything she's at a disadvantage because of how much time she has to devote to the corporate side of things.
She often finds herself taking conference calls while stretching on a yoga mat, or foam rolling while she works on her computer. With practices four days a week and one day a week for tournament play or heavy scrimmaging, she doesn't have time for much else.
"It's basically like having two full time jobs," she said. (Menard is still on the Board of Directors and the Investment Committee for Menard's, so let's make it three jobs.) "You have to be really good at time management."
Four years after the NVL began, Menard is working toward better balance — and the league is close to finding balance as well.
"We're really excited to finally break even this year," Menard said. "The big goal is to be profitable and find the support all around that we can be sustainable for the next 20-30 years. We don't want to be something that loses a ton of money, gets bankrupt and then gets bought. It's kind of a vicious cycle that is attached to other leagues. We just wanna build the sport and make sure our tour is never put in a position where it all of a sudden folds."
The NVL hopes to build on the growth of volleyball at the youth, high school and college levels. In addition to the pro tour, there's also a national grassroots tournament series — the NVL and Rox Beach Series — and the NVL Club Med Academy in Florida.
By building an infrastructure and a pipeline for young players, allowing NVL pros to play in tournaments outside the league and offering them coaching opportunities within it, the NVL hopes to create a level of sustainability.
The most successful pro beach league, the AVP, was founded in 1983 and experienced a golden era in the 1990s, with prize money, attendance and publicity skyrocketing. In 1998 the league filed for Chapter 11 bankruptcy, was bought and relaunched. The league again fell on hard times in 2010, as the season was cancelled amid another bankruptcy filing. After putting on one event in 2011 the AVP returned in 2012 under new owner Donald Sun.
When the NVL launched with the 2011 season, it benefitted from the absence of the AVP, with the top names in beach volleyball signing on to play in NVL tournaments. But the return of the AVP has meant the loss of nearly all of those marquee names, like Kerri Walsh-Jennings, Jake Gibb, April Ross and John Hyden.
"Honestly, we'd love to have Kerri Walsh play on our tour," said Menard. "But we still have a high level of volleyball and we're just so connected with our fans, that that's our business model, to be out there and be on the ground and connecting with younger players."
Losing the battle for top-name players isn't the only challenge for the NVL; they're also fighting with the AVP for space on the calendar.
"Unfortunately, there hasn't been a lot of cooperation from the AVP, so we're just trying to focus on us," Menard said. "Players need to play in as many high-level tournaments as possible to qualify for the Olympics and those conflicting dates and exclusivity — it's really bad for our sport, unfortunately."
(Not everyone agrees that overlapping schedules is a negative thing. Pro player Ryan Doherty, for one, has been very vocal about the NVL and the scheduling conflicts with the AVP on his blog.)
The NVL has this weekend all to itself, with a tournament in Atlanta. Menard and her partner took ninth in the first competition of the year, in Dallas at the end of May, and she's hoping to build on that finish.
"We've only been playing together about a month but we're committed for a whole season, which is nice." said Menard. "Last year I was bouncing around with a couple different players and it was so tough 'cause you really need that chemistry when you're playing."
The tournament is one of three "Saturday Night Lights" events, which eschew the traditional Sunday final in favor of a Saturday night finish. The championship match leads right into a beach party and concert featuring singer Kelley James.
While in Atlanta she'll take off her CFO cap and forget about taglines, scheduling conflicts, sponsorship deals and competing leagues. The weekend is all about the game, all about being Molly Menard the player.
"We're definitely gonna crush it," she said confidently. "We're looking to win a lot of matches."