"Athletes inspire kids to be better, and not just on the court." — Albert Hannemann, Founder and CEO of the National Volleyball League
Huffington Post journalist Kristen Hewitt attended the NVL 2014 Players Championships and spoke with NVL CEO AL-B Hannemann and players about the growth of beach volleyball and the league's pro and grassroots plans for 2015.    The column noted that while fans watched the pros battle it out on court, Hannemann worked tirelessly behind the scenes to continue his and the NVL's mission, to teach and grow the game of beach volleyball. Underscoring that mission is the fact that Hannemann and his family moved from California to Florida to run the NVL Club Med Academy.
"I would have never moved here if I didn't think this would change the sport dramatically. Parents have been looking for this, beach volleyball is out of control and we need to give kids more opportunities to play. And having the pros to teach them is the biggest difference maker. There's a league behind this academy, and that's never happened before. I'm more passionate about developing young players than the tour."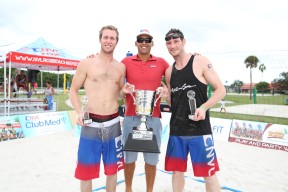 NVL pro Austin Rester weighed in on the NVL's grassroots philosophy and initiatives, commenting, "For me, what's beautiful about the NVL is how much they've involved the junior game. I coach full time in San Diego, and this is exactly what I want to do with my time; give back to juniors, be competitive, and have fun. Kids and growing the game is the heart of this tour."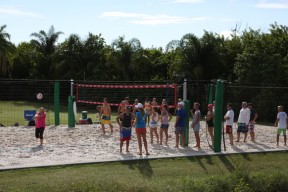 Continue reading why Huffington Post calls The NVL, a "family friendly league, which has nowhere to go but up. " Full article.
You can also read the article on Hewitt's blog, Mommy In Sports.