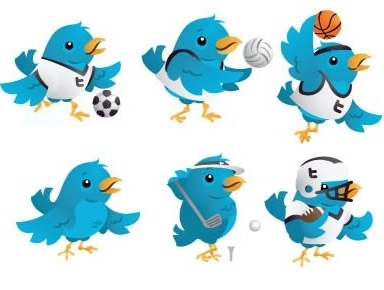 Twitter can be interesting, entertaining, informative and just flat out hilarious. But it all comes down to who you follow. As an athlete, we need a daily dose of entertainment and motivation. Over the years, Twitter has become a place for athletes to connect with fans, speak their minds, and eliminate any media that may alter their words. Here are 10 twitter accounts that every athlete should follow.
10. Dr. Oz
Believe it or not, Dr. Oz offers some grew insight and inspirational messages for athletes. Dr. Mehmet Oz is a cardiac surgeon, host of The Dr. Oz Show. His tweets cover everything health-related, from smart recipes to skin care to fitness tips. He frequently reaches out to his followers for health-related questions and answers them in detail on his show. Also… he's Dr. Oz
9. Paul Bissonnette
The philosopher-hockey player ("How long should you run hot water over your toothbrush before you use it again if you accidently drop it in the toilet?") lives out loud on Twitter, offering fans endless insight into his life. Whether you want it or not.
8. The Rock
Dwayne Johnson, a.k.a. "The Rock," is one motivated man. His Twitter is flooded with inspirational quotes, weight room pictures and even his personal workout plans. Spend a few minutes on The Rock's account and you'll suddenly find yourself itching to hit the weight room.
7. Lolo Jones
This one is for the single ladies… and men. Buzzfeed called Jones "the Olympian version of Liz Lemon and it's an apt description. Her Twitter feed is a laugh-out-loud funny about her endless singledom, and she's phenomenal with comebacks when people mock her.
 6. Larry Winget
One of those mornings when you can't get out of the bed and into your gym clothes? Take a look at Larry Winget for your daily dose of motivation. Winget isn't interested in excuses; he's interested in results. Think of Winget like that coach who was always super hard on you, but only because he knew your potential.
5. Eric Stangel
The comedy credentials are strong — he's the head writer and executive producer of Late Show with David Letterman — and his feed is regularly filled with 140-character riffs on sports.
4. Danica Patrick
Patrick is a fascinating woman: she has broken barriers in auto-racing, she has gained attention both for her toughness on the track as well as her sexuality, and she has made herself one of the most recognizable faces in not just racing, but in all of sports
3. Serena Williams
The 15-time Grand Slam queen can be guarded in interviews, but you'd never know it from a feed that allows fans a candid view of her goofy side.
2. Holley Mangold
She's hilarious, and tweets about what it's like to compete in a fringe sport day-to-day. For example, "I have realized when it comes to flight or fight … Flight is not an option #bigpeopleproblems."
1. The NVL
Not only does the NVL give you in the inside scoop on beach volleyball, but we share some great reads from the NVL blog – including humor, fitness tips and personal stories. To top it off, we engage our audience in stimulating volleyball conversation and encourage feedback!