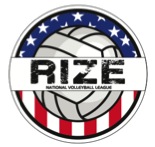 NVL RIZE to Ignite Amateur Beach Volleyball Community
Port St. Lucie, Fla. – The National Volleyball League (NVL) launched NVL RIZE, a grassroots tournament series and affiliate membership program which supports existing volleyball club directors, tournament directors and facility owners across the country. The series provides a national ranking system for teams competing in NVL RIZE sanctioned tournaments, establishing a unifying platform to develop junior and adult athletes, and creating a direct pipeline into the existing NVL Professional Tour. The NVL announced NVL RIZE at the 2014 AVCA Convention this past weekend to thousands of volleyball coaches, players and fans.
"NVL RIZE furthers our mission of providing junior, college, professional and Olympic players with an opportunity to pursue their aspirations to compete at their highest level while creating a sustainable future for the sport in the U.S.," said NVL Founder & CEO Albert Hannemann. "We are committed to working closely with our affiliates and tournament directors to unify the sport, and excited to offer a variety of tools including state-of-the-art technology and social media platforms to ensure every player has the best possible experience."
In 2015, hundreds of events across the U.S. will offer qualifying teams the chance to play in the coveted NVL championships. The series includes both junior and adult divisions with championships hosted at Club Med Sandpiper Bay in Port St. Lucie, FL. The junior "Global Challenge" championship will be held the last weekend of July 2015 and the adult amateur championship is slated for the last weekend in September 2015.
As the 'Official Sports Technology Provider of the NVL,' Sport Ngin will develop and manage NVL RIZE membership and tournament management technology solutions, including a new website, a customized mobile app for tournaments & events and a comprehensive member management system. Through this partnership, NVL is establishing an innovative digital platform which unites the thousands of people across the country involved in the sport and provides a cohesive method for affiliates and tournament directors to manage their clubs and events.
Hannemann commented further, "We received tremendous feedback at the AVCA Convention on our strategy for NVL RIZE and everyone is excited to begin utilizing our new management system to streamline their tournament and event process."
For more information about NVL RIZE, please visit: www.nvlrize.com and follow all of the "Rizing" stars on Facebook, Twitter and Instagram.
About National Volleyball League
Established in 2010, the NVL is a professional beach volleyball league built by players for all players, united in one mission: to create a sustainable future for pro beach volleyball in the U.S.
Home to eight professional events in 2015, a grassroots series, and the NVL Club Med Beach Volleyball Academy, the NVL is the only national platform for current professionals and players of all levels to showcase their talents and pursue their aspirations in the sport. With sand volleyball now a sanctioned high school sport and the NCAA's fastest-growing emerging sport in history, the NVL is building the infrastructure for young players to achieve their dreams.
For more information about the NVL, please visit: www.thenvl.com, view the NVL 2014 sizzle reel or follow on Facebook, Twitter and Instagram. NVL's VB Soul magazine may be viewed here.
###