With the 1st NVL pro beach volleyball tournament of the 2015 season just around the corner, it's time to get to know the players who will be competing in Panama City Beach. Who are your favorites? Don't have one yet? No problem, keep reading to get to know some of the pros on the NVL tour. Presenting, Part 1 of 3.
THE MEN'S TEAMS
TEAM: RUSSELL/SCHOONOVER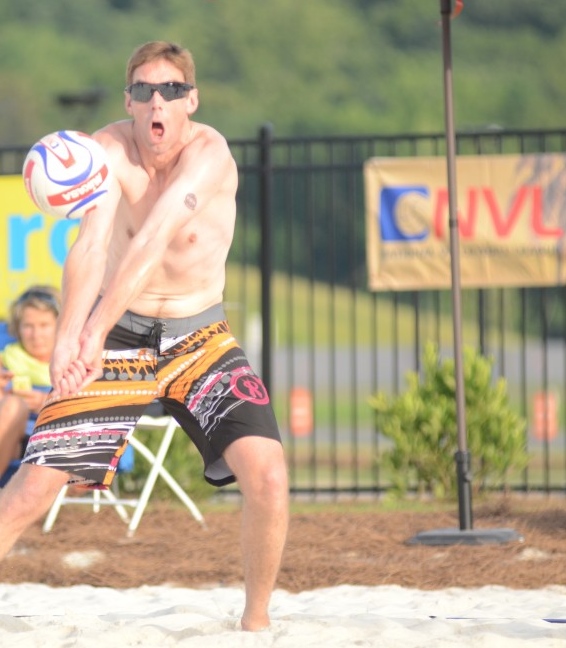 Player: Andrew Russell
Height: 6'4″
Age: 35
College: UC Berkeley (UCLA for Law School)
Hometown: Glendale, CA (currently lives in Santa Monica, CA)
Nickname: Drew
Fun Fact 1: My wife is also named Drew, she's also an attorney, and she was also a college volleyball player (at Northwestern), so we've both essentially married our male/female equivalent. People refer to us as She-Drew and He-Drew.
Fun Fact 2: I played pro indoors for four years in Sweden and can speak Swedish.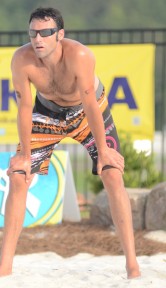 Player: Travis Schoonover
Height: 6'3"
Age: 32
College: Santa Monica College
Hometown: Thousand Oaks
Nicknames: T-Schoon, T-Bomb, Schooooniiee, T-Money, T-$, Big Bad Trav
Fun fact: My family, or at least one member of my family, attended almost every event last year and that will continue this year as well. The Schoonover family is ready to hit some fun NVL tourneys!
Goals/Expectations for the 2015 season: To be in the top 3 teams in 2015; to be in every semi-final this year; to qualify for Milwaukee IndyFest and PORT SAINT LUCIE, FLORIDA. To be the best defender on the NVL tour!
TEAM: MARCINIAK/HENDERSON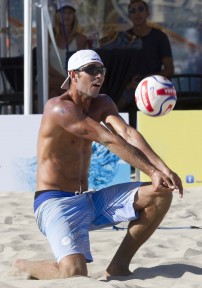 Player: Piotr Marciniak
Height: 6'6
Age: 28
College: University of Technology, Opole, Poland
Hometown: Kedzierzyn-Kozle, Poland
Nickname: Gumby, Jump bump
Fun Fact: I have a teddy bear (actually a bull) that I love and consider as my son. He travels with me everywhere I go and sleeps with me every night. His name is Fernando;)
Goals/Expectations for the 2015 season: To win every game, every match, and every tournament!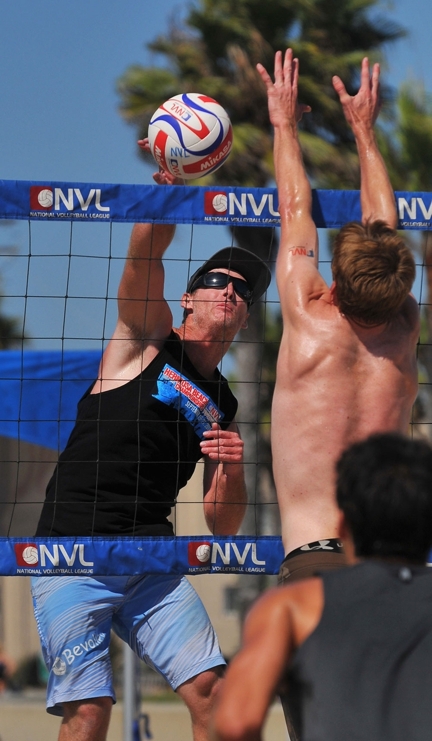 Player: Matt Henderson
Hometown: Tampa, FL
Nickname: Silent Assassin, Automatic, Mr. Talkative, Mateo… I'm sure there are more that you probably can't put in there.
Fun Fact: I'm pretty good at making furniture out of wood.
Goals/Expectations for the 2015 season: I'm just looking to have fun, but that doesn't mean I don't expect to play at a high level.
THE WOMEN'S TEAMS
TEAM: KEITH/ZAMPARELLI-FLAVIA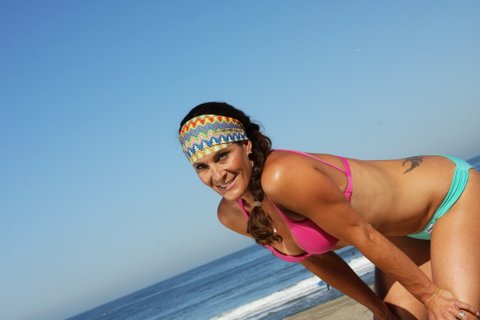 Player: Alicia Zamparelli-Flavia
Height: 5'8″
Age: 40 and getting younger
College: Cal State Dominguez Hills
Hometown: Glendale, California
Nickname: Z
Fun Fact: I didn't play volleyball in high school! The coach said I wasn't good enough. With 2 older brothers always challenging me, there was only one clear choice: I WOULD PROVE HER WRONG. Never too late I say!
Fun Fact 2: Some of my early mentors were Elaine Roque, Anna Collier, Barbara Fontana, Linda Hanley and Butch May…flashback!
Goals/Expectations for the 2015 season: My goal is to be in amazing shape. Having a baby the last 2 years has kept me very occupied but now I have more time to take care of me! As for my team goals – for the first event I am playing with another experienced player, Tarin Keith, which will be very exciting! My goal there would be to just play my "little" butt off and win. As for the rest of the season, Lindsey Fuller will be my partner and now that she has a base, we will be working on team consistency. I can't remember the last time I trained someone who was a newer player, coaching to get them up to speed and then was allowed to continue growing with them. My role has usually been coach, mentor, grow their game and watch them flourish. Some may think it's a bad choice to go with a newer player but the gratification of teaching positive play that will last with them for their career has always outweighed my need for my own personal winnings. This time I will have an opportunity to continue with a partner I really enjoy as well as have opportunity to win with! Very exciting!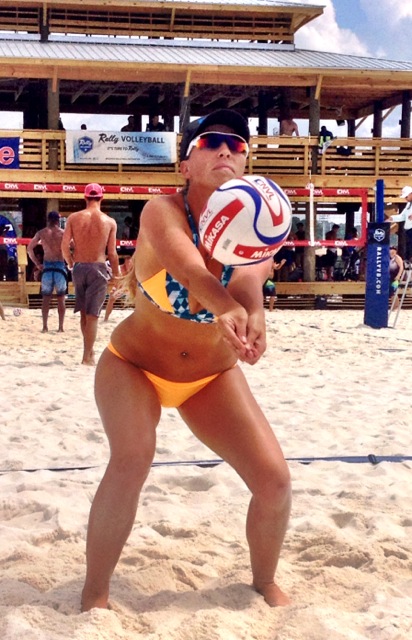 Player: Tarin Keith
Name: Tarin Keith (LoCascio)
Height: 6'0″
Age: 32
College: UNLV – University of Nevada, Las Vegas
Hometown: Vegas Baby!
Nickname: T
Fun Fact: I was on "The Price Is Right" in 2007, spun $1 on the wheel and won the showcase showdown.
Goals/Expectations for the 2015 season: To have fun, play at a high level and help grow the sport. I love this game and I want to share my passion for the sport with others, both youth and adult.
TEAM: HAYES/SNYDER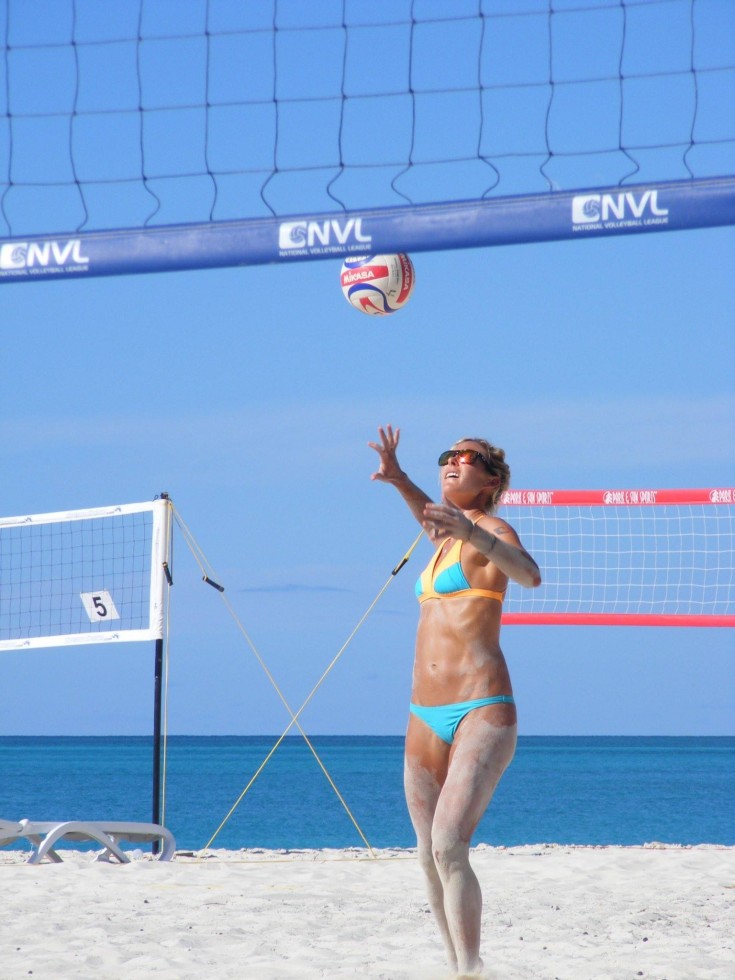 Player: Chelsea Hayes
Height: 5'9″
Age: 29
College: Cal Poly San Luis Obispo
Hometown: Hermosa Beach
Nickname: Eli
Fun Fact: I grew up in the country in Creston with a population of 270 people. My parents built a sand court in a river bed on their property and that's where I learned to play beach volleyball.
Goals/Expectations for the 2015 season: Last year Jenn and I finished as the 2nd ranked team on tour–this year, we're going for that first spot!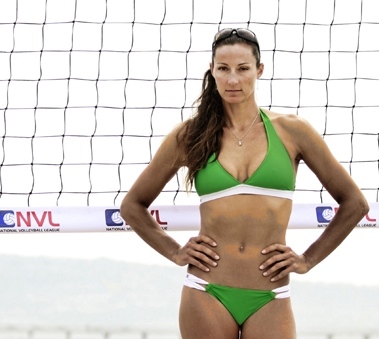 Player: Jenn Snyder
Height: 6'2″
Age: 38
College: Arizona State/Long Beach State
Hometown: Glendale, AZ
Nickname: Snyds
Fun Fact: I started riding motorcycles (dirt bikes) at age 5. My first bike was a Suzuki JR 50, yellow and black.
Goals/Expectations for the 2015 season: Have fun and win.