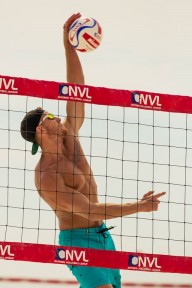 By Travis Mewhirter
It's 6:45 a.m. on a random Wednesday in March, and I can't sleep.
It's a shame, really, because it's the first time in six months I'm actually able to sleep in without a puppy demanding my attention before 7 a.m.
I squeeze my eyes, roll face down in the pillows, try every possible manner of forcing sleep.
It's not coming, nor is it going to, so I quietly pace around my Panama City hotel, stepping around my slumbering buddies, who have made the trip from Maryland to come see me get my butt kicked, though none of us know that quite yet.
It's Spring Break season, and no place hosts a better month-long party between March and April than Panama City.
This, however, is not why the early and unmistakable tingles of adrenaline are racing up my hands and through my arms, turning my stomach into a fluttering a mess of a thing.
Seven months ago, I picked up a beach volleyball for the first time; in four hours, I'll be playing in a professional beach volleyball tournament.
It's a National Volleyball League event, meaning there will be established professionals who make a living playing this game I still know little about.
I'm in over my head. I know it. My partner, Judd Smith, knows it. That's why he brought me here.
"You fed him to the sharks," he will be told in four days' time.
The sharks go by the name Kris Back and Zach Davis.
They're our first-round matchup. Both are well-built and athletic, rangy and muscular with a graceful power to their movements, not a whole lot unlike sharks, come to think of it. While both are clearly playing at a level I am still far from, it's still easy to peg Davis as the guy to avoid.
He's a 26-year-old lefty from Sarasota with a bludgeon of a swing who, I'll later find out, has won a few pro qualifier matches.
They know nothing about me, and it's probably in our favor that they're ignorant to the fact that I'm a 24-year-old sportswriter from Baltimore who, eight months ago, had never played beach volleyball.
It's not even that I didn't play it — I loathed it.
The only prior experience I had playing volleyball I had accrued so reluctantly, in high school gym class.
I was a basketball player. At 6-foot-5, 215 pounds, I am essentially manufactured to play small forward.
But there's not much good basketball in Navarre, Fla., just like there's not much beach volleyball in Baltimore.
Three months into my move to Florida without playing much of anything, I grew restless.
An athlete my whole life, I craved that ineluctable pull of competition. Beach volleyball offered it, every night, and the omnipresent possibility of winning was seductive.
It was wonderful. I was horrible.
Judd, my partner in the NVL event, saw something in me. I'll never be able to tell you exactly what that something was, aside from a 6-foot-5 frame and some long arms, but one day, playing pickup, he whistled me up, told me I could become something in this foreign sport, if only I'd let him work with me.
"When do we start?"
Judd played in his first pro event in 2004 and bounced around from Mississippi to California to New Orleans to Florida and back again, traveling the country in an RV, hunting down volleyball tournaments, winning enough one weekend to fund the next until he finally settled in Navarre.
Two children will do that to you.
His career had ended too quickly. Mine had started too late. In teaching me, and others with a passion that mirrored mine, he found a purpose.
Over the next six months, he molded me into a half-decent volleyball player.
I began winning, first with small tournaments on the weekends then bigger ones on Friday nights, culminating in a first-place finish at a tournament called Fuds, one of the biggest events Fort Walton Beach, Fla. puts on all year.
"Don't get stuck in Navarre," Judd advised.
Which lands me here, in Panama City on a post-card morning in March, doing my best not to shake as I sign my waiver.
"Nervous?" asks one of our crew from the rolling circus who made the trip from Navarre to watch us.
"No."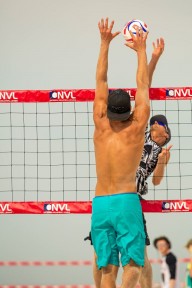 It's a blatant lie that becomes obvious startlingly, almost nauseatingly, fast.
We go down 7-0 at the first switch.
I botch the set on the first point, get aced on the next two, and we scramble around and get smoked through the switch.
Not five minutes in, momentum is already swinging wildly in the wrong direction.
We never get it back, losing 21-9.
I slump down by myself at the break between games, searching my memory for the last time I'd lost so badly at anything. Nothing comes up.
There is a positive to be gleaned from getting smoked though: Back and Davis literally beat the nerves right out of my system.
The second game began. It's remarkable what the removal of nerves can do for an athlete.
Suddenly I was laughing, swinging freely, loose. We began playing volleyball again.
We went up 4-3 at the first switch, 8-6 at the second, 11-10 at the third.
And then I did the worst thing a green athlete playing at a level far above his own could do: I began to think.
Seven points.
Just seven months into my career, seven points separated me from beating a pair of professional volleyball players and extending my first-ever match to a third game.
Nerves flooded my system, consuming me both mentally and physically.
I shanked passes and flubbed sets. I missed two serves.
We never got those seven points, scratching out just two to get pasted again, 21-15, in a game I'd argue was much closer than the score reflects.
"Only way to learn," Meaghan Allen, a coach at a high school I cover, reminded me as I slumped into the sand.
The experience called to mind a great line, written by C.S. Lewis: "Experience: that most brutal of teachers. But you learn, my God do you learn."
There is no material value I can place on playing in the NVL, only that it is something I cannot recommend enough to any young players with $75 and a free afternoon.
It's humbling and eye-opening, a necessary step back before you can take two forward.
Now I'm driving back to Navarre, which sits about an hour and a half west of Panama City.
My phone is flooded with texts from family and friends asking how it went.
I tell them I got it handed to me, but, I add, as Lewis would say, "I learned, my God, did I learn."
Travis Mewhirter is a 24-year-old sportswriter and aspiring beach volleyball player currently living in Navarre, Fla. where he writes prep and college sports for the Northwest Florida Daily News and makes regular radio appearances for The Game and the Ticket Sports Network. 
A 2012 graduate of the University of Maryland's Philip Merrill College of Journalism, he has previously been a PGA Tour columnist for Yahoo! Sports and a sportswriter for The Washington Post. 
You can contact him through email at tmewhirter@nwfdailynews.com or twitter @TravisMWnwfdn