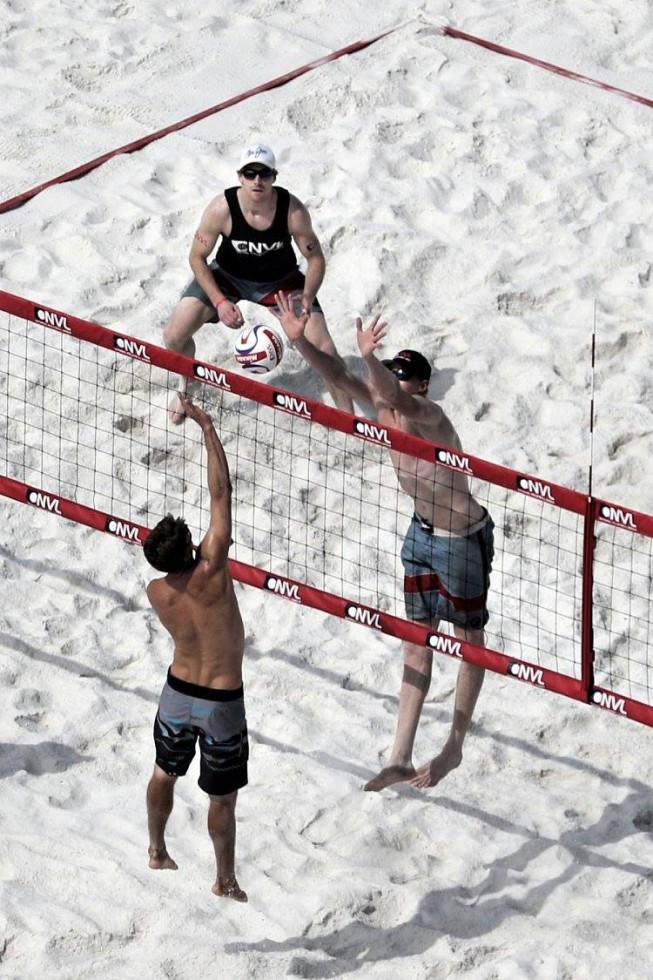 The top men's beach volleyball players in the country are in final preparations for the $50,000 Madeira Beach Championships starting Friday, April 24 concluding with finals on Sunday, April 26. The draw is shaping up to be every bit as tough as the Panama City Beach tournament. Here are the things you need know.
Panama City Beach champ Dave Palm is joining forces once again with his 2014 season partner Drew Mallin. Mike Placek (Dave's Panama City partner) is unable to make the event. You can expect this team to be every bit as tough as the Placek/Palm team. Dave and Drew had a great 2014 season with four finals appearances in six events but were unable to come away with that coveted win. Dave is playing the best ball of his young career and keeps getting better each event. Drew is a fearless defender and will be bringing his A-game, making this duo almost impossible to beat.
Matt Henderson and Piotr Marciniak will most certainly bounce back from a disappointing 7th place finish in Panama City where they were knocked out by the very talented team of Travis Schoonover and Andrew Russell. When Henderson and Marciniak are 100%, they are as good as any team on any tour. Matt Henderson sees nearly all of the serves and can side out indefinitely when they are in-sync. No one wants to serve Marciniak, he is just scary and has virtually no respect for blockers.
As for Travis Schoonover and Andrew Russell, they ended up with a 5th place finish in the first 2015 season tournament and will be looking to take some revenge against the team they frequently train against, Brad Torsone and Steve Keffer. Schoonover can be a human highlight reel on defense and Russell had a great blocking effort in the win against Marciniak/Henderson. They seem to be the masters of finding and exploiting weaknesses that other teams didn't even know they had (good defenses can do that!).
Brad Torsone (17 year pro) and Steve Keffer had to be very pleased with their best-ever NVL finish (3rd) in Panama City. They switched sides for the event and it really worked out. Torsone and Keffer were one of the best prepared teams in the first event. They had a decent early draw, but had to beat two very tough teams in Hamilton/Lindsey and Schoonover/Russell to get third. It will be interesting to see if they can stay ahead of the other teams as the season moves on. They aren't as flashy, but they are very consistent and focused.
Ryan Vandenburg and Andrew Hinchey finished third in Panama City with a loss to eventual champs Palm and Placek. They were certainly happier with their finish than they were with their overall tournament play. Vandenburg and Hinchey spent the winter training indoors and the beach conditions (mostly the wind) got them out of system at times. However, it is safe to assume they are spending more time outdoors and will add some polish as the season moves along. The success of this team centers around 6'10" Vandenburg's blocking and hitting and Hinchey's consistent defense.
Drew Hamilton and Daniel Lindsey (best beard on any professional tour) finished 9th in Panama City and that is not a measure of how good they can be. These guys are a landmine at any stage in the draw that other teams hope they don't step on. When they play their best ball, they are incredibly dangerous and can upset just about anyone. Expect a better finish in Madeira. If they make it to center court, this is a must-watch team with two amazingly athletic guys that touch nearly every ball on defense.
Newcomers (at least to the NVL tour) Jon Mesko and Mike DePierro finished 5th in the season opener after losing in three to Hinchey/Vandenburg. This is an impressive finish considering they had very little prior experience with their opposing teams. This is another dangerous team featuring a powerful oversized (6'6″) defender (DePierro), talented multi-skilled player (Mesko), and loads of professional experience.
The new pairing of Jeff Samuels and Skyler Del Sol finished 7th in Panama City with losses to Mesko/DePierro (32-30 in a tough game two) and Hinchey/Vandenburg. They will be one of the top teams on tour as they get more comfortable with each other and the level of competition. Del Sol is a great defender and Samuels has the potential to be one of the best blockers on the tour. Jeff is an exceptional athlete and Del Sol basically puts on a setting clinic every time he steps on the court.
The scary part of the Madeira Beach Championships is all the other teams that are on the verge of breaking into the top 8. The field is very deep and includes Dan Stubinski & Randy Meador, Eric Zaun & Skyler McCoy, Todd Strassberger & Kris Fraser, Justin Phipps & Brandon Joyner, and several other tough teams.
Cool things to watch on the free live webcast:
• The Piotr Marciniak "jump-bump" (he rarely hand-sets)
• Dave Palm and Ryan Vandenburg blocking
• Andrew Hinchey, Travis Schoonover, Drew Mallin, and Mike DePierro playing defense
• Skylar Del Sol hand setting
• The incredible composure of Matt Henderson
• Drew Hamilton and Daniel Lindsey taking on any team with the potential to upset