Beach • Megan Kaplon • 03/23/15
Panama City event kicks off pro beach volleyball season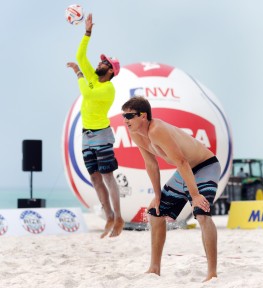 The National Volleyball League kicked off its 2015 season with an event in Panama City, Florida, March 18-20. Taking advantage of the spring break crowds, the NVL offered pros a chance to get into competition mode months before the AVP or FIVB tours begin.
On the women's side, Karolina Sowala, who won five of the six NVL tournaments in 2014, and her new partner Brooke Niles defeated Vivian Cunha and Raquel Goncalves Ferreira 21-11, 25-23 in the final. Mike Placek, winner of the 2014 NVL Milwaukee and Hermosa Beach events, and his new partner Dave Palm took the title on the men's side, defeating Eric Haddock and Robert Rodriguez-Bertran 21-17, 21-14 in the championship match.
Hosted in front of The Beach Boardwalk Resort, the NVL's kickoff event also featured a college coed tournament with the champions winning a free stay in one of The Beach's condos for spring break in 2016.
After the pro tournament was complete, the players hosted a juniors clinic and tournament as part of the NVL Rize program.
NVL competition picks up again next month in Madeira Beach, Florida, April 24-26.