CINCINNATI, Ohio – The No. 10 seed team of Vivian Cunha & Raquel Goncalves Ferreira and the No. 2 seed American team of Andrew Russell & Travis Schoonover were the women's and men's winners, respectively, at the National Volleyball League Midwest Championships.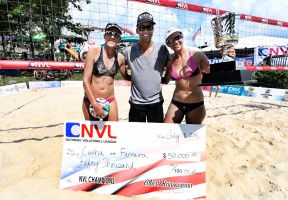 Coming off a finals win at the Milwaukee Championships last weekend, Cunha/Ferreira beat No. 3 seed Kim Hildreth (USA) & Karolina Sowala (POL) 23-21, 21-18 to take home a consecutive title. Cunha/Ferreira dominated their way through the winner's bracket but faced a tough opponent in the semifinals, winning 19-21, 21-14, 19-17 over Meghan Mannari & Taylor Nyquist, to move into the finals.
Russell/Schoonover won in a forfeit due to injury against the No. 12 seed team Martin Caban (Czech Republic) & Gregor Lah (USA). In the men's semifinals, Russell/Schoonover defeated the No. 4 seed team of Mike DiPierro & Jon Mesko, 23-21, 21-18.
The tournament was held at The Beach Waterpark for the third consecutive year from July 16-18 and featured top pro beach volleyball players from around the world competing for a $50,000 prize purse. NVL partners Mikasa and Australian Gold provided giveaways to fans throughout the event.
NVL RIZE, the NVL's official amateur series, also hosted a tournament and clinic for juniors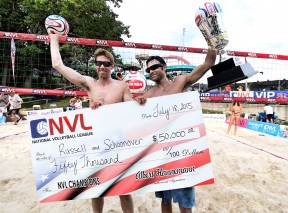 throughout the weekend in Grand Sands, Ohio. Finals were played on the NVL center court and live streamed to fans. The next RIZE tournament will be the Junior Championships Global Challenge Invitational at Club Med NVL Volleyball Academies in Port St. Lucie, Florida from July 31 – August 2. The tournament will kick off with a College-Ready Camp from July 27-30. Teams can register here.
The Midwest Championships center court matches will be available to view free on-demand at the NVL Network.
The tournament is one of eight professional events on the NVL calendar in 2015.  The remaining events include:
August 6 – 8: Hermosa Beach, CA
August 28 – 30: Seattle, WA
September 24 – 26: Port St. Lucie, FL
For more information about the NVL, please visit: www.thenvl.com, view the 2015 sizzle reel or follow on Facebook, Twitter and Instagram.
About National Volleyball League
Established in 2010, the NVL is a professional beach volleyball league built by players for all players, united in one mission: to create a sustainable future for pro beach volleyball in the U.S. Home to eight professional events in 2015, a grassroots series, and the Club Med NVL Volleyball Academies, the NVL is the only national platform for current professionals and players of all levels to showcase their talents and pursue their aspirations in the sport. With sand volleyball now a sanctioned high school sport, the NCAA's fastest-growing emerging sport in history with 50 schools sponsoring it as of January 2015 and a Division 1 approved championship, the NVL is building the infrastructure for young players to achieve their dreams.
###