Everyone loves an underdog. 22-year-old Skyler McCoy and two-time Olympian Mark Williams took the title this past weekend at the NVL Milwaukee Championships. They came into the event as the 12 seed upsetting everyone in the winner's bracket along the way, including the #1 seed. This was the first tournament for this pairing, not to mention, Skyler is the youngest player on the tour to ever win. "They made magic this past weekend" -NVL founder and CEO, Albert Hannemann.
Watch Skyler's post-game interview below:
In this NVL exclusive interview, Mark Williams tells his story about playing in the Australian Olympics and his current experience playing on the NVL tour.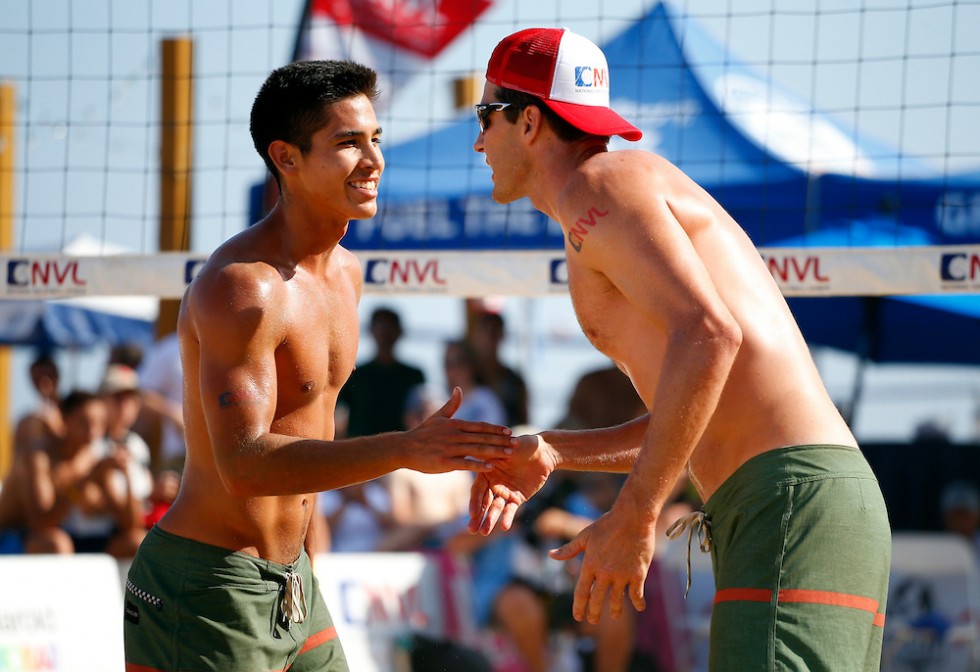 Where did you grow up?
I was actually born in Sydney, Australia and then I moved to LA when I was 9 years old.
Do you come from a family of athletes?
My older brother played volleyball in high school and in college. I decided to follow in his footsteps. I began playing when I was 14 years old and by the time I was 16, I knew that I was going to take this opportunity to get me into college.
Where did you attend college?
UCLA. I played indoor as an outside hitter. During my four years, we were fortunate to go to the National Championships. It was such a great experience and really strong competition.
How did your experience of playing in the 2000 Australian Olympic games come about?
Well, after I had graduated I was playing professional beach volleyball and received a call from my Olympic partner to be, Julian Prosser. He asked me if I wanted to come out to Australia and make a three-year commitment to play with him. I was young and I had Australian citizenship, so it was the perfect opportunity to get out and try something new.
How has your experience been playing with the NVL?
The NVL was created by the players, for the players, so there is a fundamental understanding of what we really need. AL-B Hannemann is the founder of the NVL but also a veteran beach volleyball pro, so he gets it. Actually, we played together a while back at a few opens and we were incredibly successful.
Everyone works together to grow the game throughout all levels of play. From clinics with the kids to the juniors and collegiate level, all the way up to the professional level – we are all working together to grow the sport. This is what separates the NVL from other tours. It's one big family.
You just played and won your first tournament with 22 year-old NVL pro Skyler McCoy. What were your expectations going into the NVL Milwaukee tournament?
Having only trained with Skyler three times before our first tournament together, I really didn't know what to expect. I knew that we complemented each other well – I am a blocker and he is an excellent defender. I was certain that we would mesh well and, like any team, we expected to come out strong. But I figured it would be more of a gradual experience, yet here we are having won the entire thing.
What are a few lessons that you've taught Skyler?
I told him not to go the players' party the night before our matches!! No, I'm just kidding. He is young and he has a good head on his shoulders. I don't want him to be resentful so I try to give him space too. If I see something, of course I will point it out. For example, being a bit older, I've had more experience reading my opponents.  I am good at communicating these things to Skyler.
Younger players have the tendency to just go, go, go! I have the ability to slow the pace of the game down. When things aren't coming together, I call a time-out to sit down with Skyler and say "Hey, let's talk about this for a minute."
What are a few lessons that you've learned from Skyler?
He made a great call just in this past tournament. We got ourselves into a rut and instead of doing the same thing that we had been doing, he said, "Let's switch sides." And I said, "Okay, let's do it." Sure enough, it was successful. That was a well-thought out strategy move.
How do you spend your time outside of training and tournaments?
I'm 36 years old now so I am more of a part-time player. I have two young kids with my wife Michelle. I also work selling medical devices so my days a pretty busy now, and I have less time to train.
My wife still plays full time. It has been fun touring the NVL together. It's like mini vacations together.
What do you see for the future of the sport?
It just needs to grow and the NVL is doing a great job with this growth. With women's beach volleyball becoming a collegiate sport, we will see a lot more fans watching at the collegiate level. Eventually, these fans will be coming to watch the pro games. The way that the NVL has grown in the last five years can only mean good things for the future of our sport.