Eighteen-year-old Canadian twin sisters, Megan and Nicole McNamara, have a Youth Olympic Games silver medal and FIVB U19 World Championships bronze medal under their belt. Now they're taking their talents to the U.S., heading to UCLA this fall and joining us this weekend in Hermosa Beach for the West Coast Championships. We had a chance to sit down with Megan and Nicole after they battled out of the qualifiers to face the number one and number eight seeds, getting wins against each to land a spot in tomorrow's quarterfinals.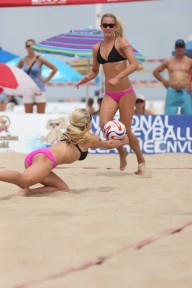 How were you introduced to beach volleyball?
We played both indoor and beach growing up. Our family vacationed in Mexico so we started playing when we were pretty young with our family for fun and just stuck with it. We played indoor through high school but our hearts have always been at the beach.
You'll be starting at UCLA this fall. What made you choose UCLA over other universities?
We looked at Hawaii and Arizona too but it was always our dream to play in California. The location is ideal; it's a short flight from home. And of course it's a good school academically.
Were you a package deal?
Absolutely! The only time we've played with different partners is back home for fun.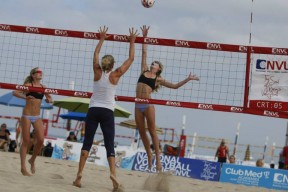 Have you had an opportunity to play in Southern California previously?
We've come to Hermosa a few times and played in AAU tournaments and similar amateur events.
You obviously came ready to compete this week. What are your expectations in this tournament?
We're proud of how we're playing but we'd like to continue playing strong and finish in the top four teams. We were nervous playing the top seed [Pri Piantadosi-Lima & Kristen Batt-Rohr] in our first main draw match, so we just focused on what we could control on our side and didn't allow ourselves to get intimidated. We don't know the play style of most of the teams, so we've tried to watch matches when we can and feel out teams in the first set.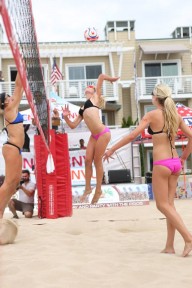 What has been your most memorable volleyball experience to-date?
Playing in the Youth Olympic Games in China but we've been fortunate to play in a lot of cool places like Portugal, Cypress and St. Lucia. St. Lucia has the prettiest beaches ever.
Do you have the twin psychic connection everyone hears about? Do you think it helps on the court?
We've been playing together forever, since we were really young, so it's more about the experience of playing together than a twin thing.
What would be your number one tip for young players looking to make the transition from indoor to beach, and take their game to the next level in college?
Play as much as you can – indoor or beach – but follow your heart. You'll know if you're meant for one or the other. We found that sending in video of ourselves competing really helped get recruited.
Okay, final question, unrelated to volleyball: What are you looking forward to doing when you live in LA?
Our family will definitely be visiting a lot, they love to watch us play and visit cool places! I'm sure we'll do fun family outings; we have always wanted to check out the Hollywood Bowl.
Megan and Nicole will face the reigning women's champs, fifth seed Vivian Cunha and Raquel Ferreira, in the quarterfinals starting tomorrow at 8 am PST. Check out a highlight from their match versus Tarin Keith and Josie Schatz below, and be sure to tune in to the LIVE webcast on Saturday at 9 am PST: TheNVL.com/Webcast