We had the absolute pleasure of sitting down with NVL pro Priscilla Piantadosi-Lima to discuss beach volleyball, her coaching career and her wife Michelle's unbelievable victory over Stage 2 Breast Cancer. Moving, powerful and inspirational –  we are thrilled to share this exclusive interview with you. Enjoy!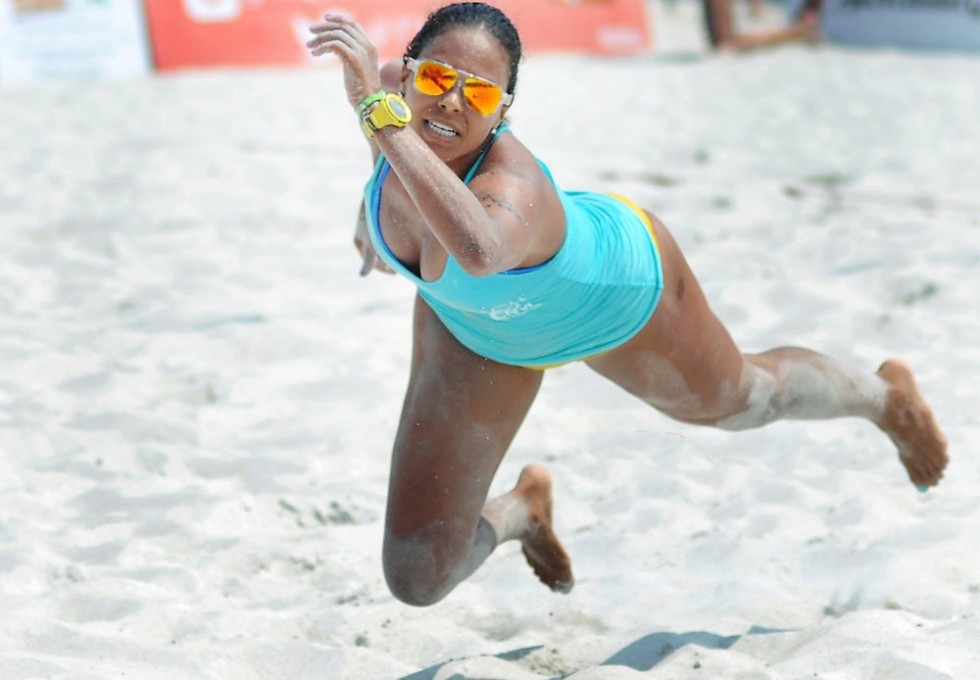 You've had quite the extensive beach volleyball career, playing both for Brazil and the United States. Take us through some of your bigger accomplishments.
I am originally from Rio de Janeiro, Brazil. I came to the United States in 1999 to play for the University of Louisiana at Lafayette. As soon as I graduated, I knew I wanted to play beach volleyball professionally. I started playing on the AVP, making every qualifier except one. Six tournaments into the season, I was a ranked player. In 2007, I broke into the Top 10 in the nation. By 2009, I was Top Three playing with Tatiana Minello. At this point, I wanted to get back to my roots. In 2009, I decided to go back to Brazil to play on the Brazilian tour, where I ranked 5th in the country, aside partner Minello.
Some other achievements included representing Brazil in the FIVB, playing and winning the first round in the Continental Cup for Brazil. I played with a ton of great partners in Brazil. In 2013, I retired from Brazil and just played in the states. That's when I discovered the NVL. In 2014, I started playing the NVL where I won all but one tournament with Kaya Sowala.
Last year, I cut my season short because by wife was diagnosed with breast cancer.
You've seen some pretty incredible accomplishments, the biggest being overcoming stage 2 breast cancer with your wife Michelle Piantadosi this past year.
It completely changed our lives. Michelle went through Chemotherapy and a Double Mastectomy. It was the toughest thing we've ever been through, but I have never seen anyone put up a fight like Michelle. She is a fighter. I am so blessed to call her my wife.
Michelle has an extensive head coaching career at Eckerd College. How did she handle the responsibilities during this time?
Not once did she miss a match during the fall season while undergoing Chemo. It didn't matter if she was sick, her students could never tell how poorly she was feeling. Her commitment and love for her team is unconditional.
In February of this year, she had both of her breasts taken. The same day that Michelle left the hospital from her surgery, she went straight to watch the Eckerd beach volleyball team play in a tournament.
It just shows her strength and her dedication to the program. Everything is going great now and Michelle is cancer-free. All tests came back negative. We are on the road to recovery, back at the gym and helping the family out.
What are some take away lessons you gained from this experience?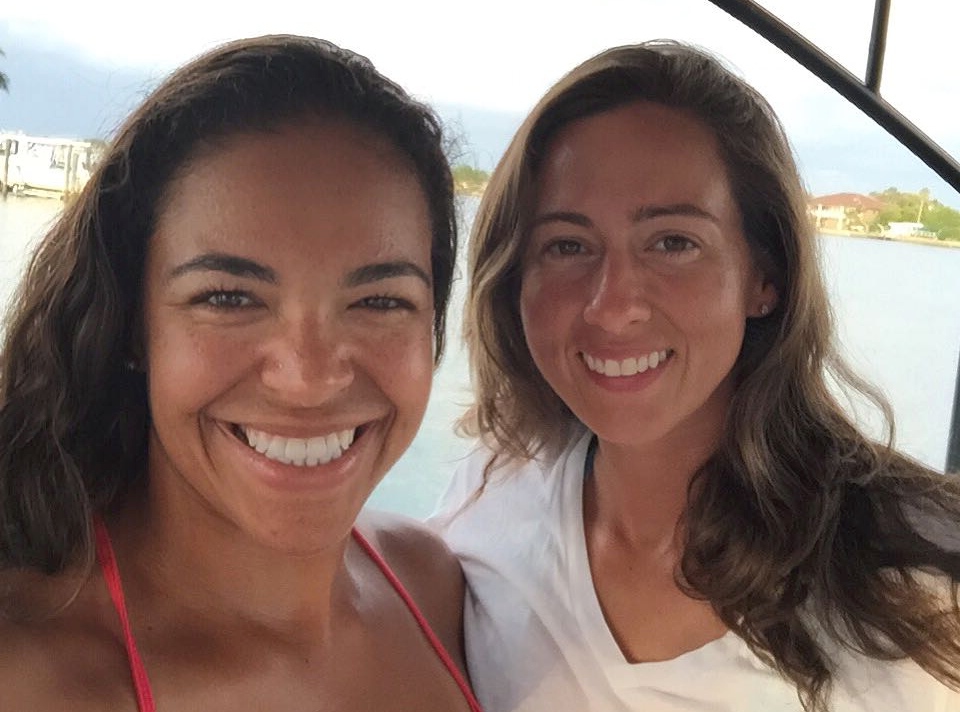 Michelle is now dedicated to helping prevent cancer in the lives of others. One of her biggest motivations is to teach people that you don't always have to go through cancer. You can learn about it beforehand and prevent it from happening.
We never take enough time for each other. We haven't even gone on our honeymoon yet because so much time has been taken from us. Always make room for those that you love. That is our new commitment.
Recently, you lost a huge influence in your life, your grandmother. How are you holding up emotionally?
It has been a tough year. I couldn't say goodbye to my grandmother in Brazil. She was the one person that loved me the most and supported me the most.
Tell us a bit about her.
My grandma was the toughest person I've ever known. She always stood up for her beliefs – a tough cookie. Financially, my grandmother was always there for my mother and me – Not just in supporting us, but teaching us. She did everything in her power to make sure I was taking care of myself and planning for the future. If I said to her "Hey Grandma, I just won a tournament," she would reply with, "That's great, is that going to cover your expenses? You need to make sure you are covered for all aspects of your life."
Pri laughs.
She had her own ways of loving me. I was frustrated by her toughness when I was younger, but when you reach your mid 20's, it all starts to make sense.
It seems like she had a very serious impact on all aspects of your life.
I loved her. But I always wanted to prove her wrong, so I would try harder. Now I see what drove me so hard to be successful – and why I am so successful. I want to make her proud.
Pri catches her breath and gathers her thoughts.
What is your biggest inspiration going into the 2016 NVL season?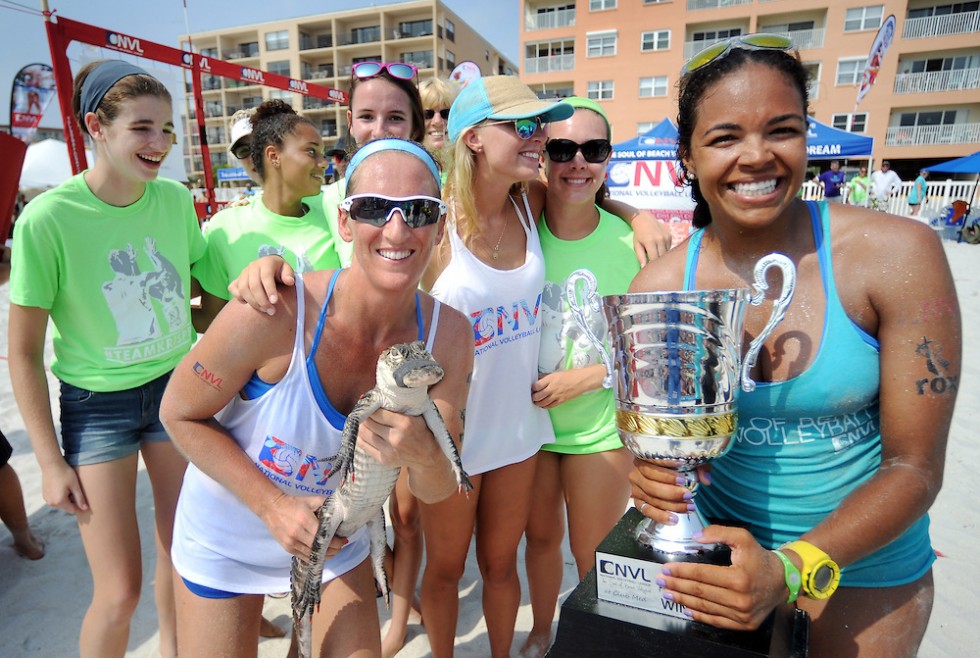 My biggest inspiration this season is my wife. I really want to play well for her. She's my biggest inspiration because she fought for her life. Everything seems so dull in comparison to the fight we went through – this makes me want to fight even harder this season.
My other inspiration is my partner Kristen Batt-Rohr. We are going to play all the tournaments together. I still have another season in me, so I'm pushing the pregnancy plan off until later on in the season.
Lastly, I want to play well for my grandmother.
Will your wife be attending the tournaments?
Michelle is supposed to be at most of the stops with me. She will be in Port St. Lucie for the East Coast Championships, driving back and forth to see her team play too.
We look forward to seeing her. How has your experience been playing for the NVL?
It's so great! What's not to love? I enjoy the people I play with, I love the environment and I love the ball.
I like it because you have to have a really good touch. You have to earn your point with this ball. You need to be precise with your skills.
AL-B and Molly are doing an incredible job getting the sport out there for the players. They set a great example for coaches everywhere in growing the sport.
You are the proud owner and director of Optimum Volleyball and Optimum Beach in St. Petersburg, FL. Optimum Volleyball is an indoor club and Optimum Beach is a beach training program for 10 & under, all the way up to the pros. What do you enjoy most about coaching?
I love being part of the process of growing the game. I've really been enjoying helping the next generation grow and mentoring them on how to present to sponsors and how to carry themselves.
This can help to be a better professional too. I am so passionate about leaving my legacy. I want to pass on the notion of being a strong woman and strong athlete.
In the past year, beach volleyball has been recognized as an official NCAA sport and the Sunshine State Athletic Conference and the Florida Region of USA Volleyball announced their initiative to bring beach volleyball to the high school level.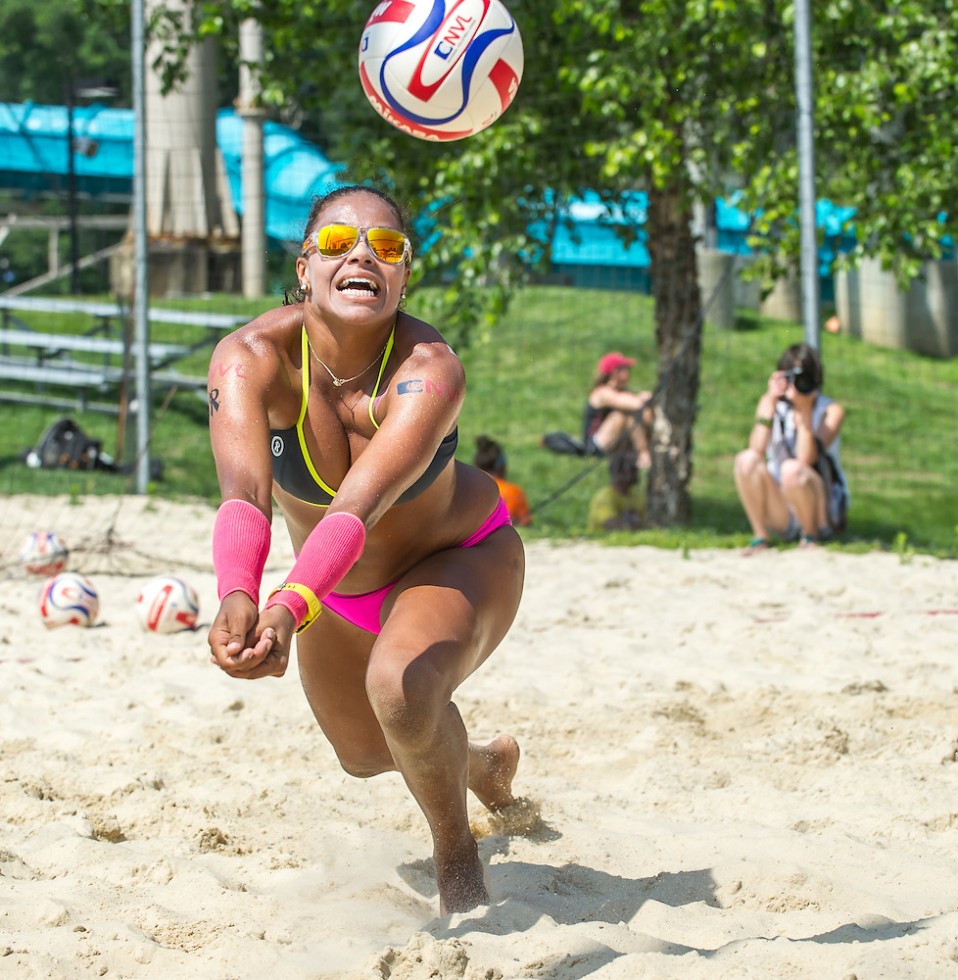 Beach Volleyball is the fastest growing NCAA sport in history. I have full time beach players that are only 16 years old and it will be incredible to see how those young athletes progress! It's definitely a blessing to be involved right at the beginning of everything – Not only to watch the growth of the sport, but to add to such a great evolution of the sport.
Let's talk about the mental game. This is something that often goes unaddressed, yet it so crucial for a game like beach volleyball.
I love the mental game. I live for it. Everyone knows how much I love it. The first thing I tell my players is,
"Courage before confidence."
You have to be courageous to try something out. Afterwards, the confidence will come. Do what you know is right and it will be enough to be successful. Trust yourself. This is how you build confidence. Be open to learning the things you don't know yet.
It will be exciting to see the 2016 Summer Olympics taking place in your home country! What do you hope to see this year?
I hope Rio is going to be easy for the Olympics. Once they get there, the problems are going to fade away. Brazil is going through a huge political turnaround right now. Everyone is going to stop and take it in once they arrive and enjoy the spectacular event. Since I've been living in US for so long, 12 years playing professionally, I get so torn between who I want to win!!! The way I see it, if Brazil and the USA make it to the finals, I'll be happy.