Long time NVL pro Jeff Samuels is courageous both on and off the court, taking leaps to better himself and his community. This is what the NVL is all about and we are so grateful to have such a talented athlete on our tour. Giving back is what it's all about.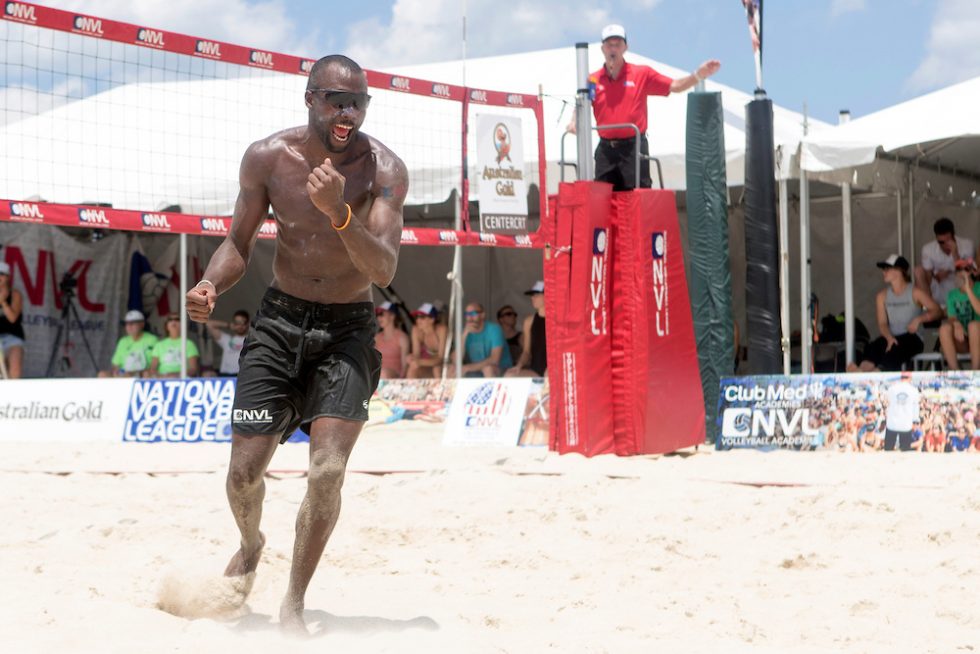 So you grew up in Michigan. Can you tell us a little bit about what that was like?
I grew up in Grand Pointe, Michigan and was always super close with my family. I have a big family – five sisters, my mother and my dad. My mom and grandma are the strongest influences and motivations in my life. I moved to Fort Lauderdale about four months ago, but I'm still very close with my family and they come to visit me here all the time.
What was the volleyball scene like in Michigan and how did you get involved?
Volleyball is pretty big in Michigan… for the ladies. I watched my sister play from a young age, all the way through her high school and college career. Actually, Chara Harris and my sister played together on the same high school team and I would go shag balls for them. I didn't get super involved until I went to college. Originally, I received a full scholarship to play lacrosse. But one time, my sister invited me to play four-on-four and from then on, I knew I'd be playing for a long time to come.
How was your experience making the transition from lacrosse to volleyball?
There were a lot of opportunities involved in making the decision to transfer to play volleyball at Michigan State. I felt like volleyball could help better prepare me for my life after sports. It's not a contact sport and it allowed me to have some free time to pursue other opportunities and goals.
Volleyball is really great, but we don't make millions of dollars, so we have to focus on what else drives us. I love the strong community aspect of the NVL. It makes the sport bigger than just you and me.
It reminds me of how much I love the feeling of helping people and knowing that I'm leaving this place a little bit better than when I arrived.
It sounds like you definitely made the right decision and found a sport you truly love. What is your number one reason for playing volleyball?
Absolutely. My number one reason for playing is to continue bettering myself and to grow. As a result, I can do a better job at helping others to grow too.
Currently, your main sponsor is The Isopure Company, a lactose-free, 100% pure whey protein isolate. How has this experience been?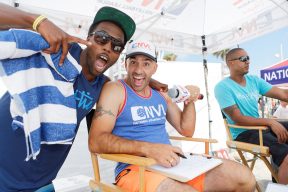 I am so grateful that they've given me the opportunity to travel and make appearances for their company. I speak for crowds of up to 1,200 people, telling them about my personal transformation and how I got to where I am today. It is an incredible experience to motivate these crowds that come to my workshops and to help them to achieve their own transformations. As you can see, my theme is transformation.
On day one, I usually dress up like a transformer…seriously. Personally, I think is really awesome! You really have to put your heart and soul into something that you want to achieve.
My goal in these workshops is to teach others to believe in themselves and to have faith. I know God is watching me, and that he wants me to put smiles on others' faces. He holds me accountable for my actions and my word.
What do you hope for the future of the sport?
Ultimately, I want to bring some equity to volleyball so that everyone in this country, or even this world, who wants to play volleyball can have the same opportunities that I've had.
My hope for the future is that volleyball players across the nation can put aside any animosity and recognize the incredible opportunity we all have. We need to answer the question, what legacy are we all leaving behind?
With volleyball growing so rapidly, we have the power to bring this sport to the next level, but we can't do it unless we all work together.
When I'm 50 years old, I want to take my kids to a tournament and tell them all about the NVL and how I had a hand in growing the sport. I really do appreciate the NVL and the opportunities the league has provided. People message me and tell me how much I've motivated them, and it makes it all worth it.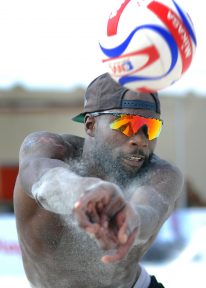 Why were you drawn to play with the NVL over other leagues?
One of the biggest draws to play with the NVL is the atmosphere. Beach volleyball is different than anything else, and we really embrace that. The NVL knows the importance of making the sport accessible to everyone, both fans and players. We travel all over the U.S, not just the most expensive cities, but smaller towns too.
How is volleyball going to grow nation-wide if all of our time is spent in the wealthiest most established cities in the country? We need to expose it and the NVL does a great job of this.
How do you give back to the community?
Before moving to Florida, I helped to deliver trucks of clean water to Flint, Michigan, just five miles from my hometown. The water contamination left so many people without access to clean water.
It is so important for people to know that the water crisis in Flint isn't over, even though the media no longer discusses it. We can still help. I like to make sure that I'm taking care of my 

business on and off the court to help other people.
What do we have in store for this tournament in San Antonio?
Uncle Schoon (Travis Schoonover) and I are really working on challenging ourselves as a team and making sure that we are communicating. We didn't have a terrible first tournament, but we could have done better. This is our second tournament playing together and I love playing with Uncle Schoon. He's a phenomenal defender, and he's also a very likable, charismatic and smart person. In Texas, we're working to fine tune our communication and getting back to the basics… our bread and butter.
People see me on the court and they see the determination on my face. I want people to know what I stand for, not just whooping heads on the

court!