HERMOSA BEACH, Calif. – The No. 5 seed women's team of Vivian Cunha & Raquel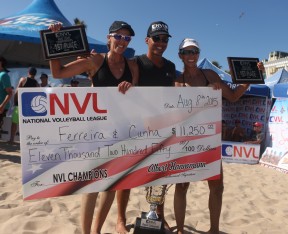 Goncalves Ferreira took home their third consecutive NVL title, and No. 2 seed Americans Dave Palm & Eric Zaun were the men's winners at the National Volleyball League West Coast Championships.
Cunha/Ferreira defeated No. 3 seed Kim Hildreth (USA) & Karolina Sowala (POL) 21-16, 21-15 in a repeat match-up of the Midwest Championships women's finals last month in Ohio. Cunha/Ferreira are proving to be the women's team to beat this season, also taking home the Milwaukee Championships trophy after defeating the number one women's team, Kristen Batt-Rohr & Pri Piantadosi-Lima.
Palm/Zaun won in three games, 21-19, 21-23, 15-9, against the No. 4 seed Skylar DelSol (USA) &
Piotr Marciniak (POL). This is the first title for the pair as a team, previously partnering for the Milwaukee Championships and Midwest Championships. Palm won the 2015 NVL season opener in Panama City Beach, Fla. with then partner, Mike Placek.
The tournament was held at the Hermosa Beach pier from August 6-8 and featured top pro beach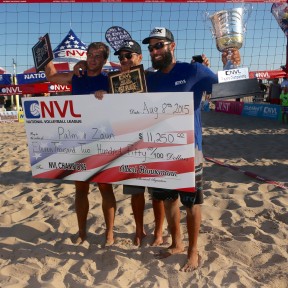 volleyball players from around the world, including local SoCal pros 2X Olympian Mark Williams, Skyler McCoy, Jon Mesko, Travis Schoonover, Chelsea Hayes, Molly Menard, Jennifer Snyder, Michelle Williams and Alicia Zamparelli-Flavia competing for a $75,000 prize purse. NVL also partnered with Smackfest to host a 4-Man Co-Ed tournament on Saturday. Fans were treated to prizes from Mikasa and Australian Gold throughout the weekend.
The West Coast Championships center court matches will be available to view free on-demand at the NVL Network. 
The tournament is one of eight professional events on the NVL calendar in 2015.  The remaining events include:
August 28 – 30: Seattle, WA
September 25 – 27: Port St. Lucie, FL 
About National Volleyball League
Established in 2010, the NVL is a professional beach volleyball league built by players for all players, united in one mission: to create a sustainable future for pro beach volleyball in the U.S. Home to eight professional events in 2015, a grassroots series, and the Club Med NVL Beach Volleyball Academies, the NVL is the only national platform for current professionals and players of all levels to showcase their talents and pursue their aspirations in the sport. With sand volleyball now a sanctioned high school sport, the NCAA's fastest-growing emerging sport in history with over 200 schools offering scholarships in 2016, the NVL is building the infrastructure for young players to achieve their dreams.
For more information about the NVL, please visit: www.thenvl.com, view the 2015 sizzle reel or follow on Facebook, Twitter and Instagram. NVL's VB Soul magazine may be viewed here.
###