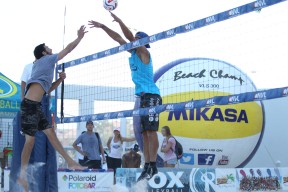 DALLAS, Texas (April 29, 2014) – The National Volleyball League (NVL) will launch the 2014 pro beach volleyball season on May 22, 2014 at La Playa Volley Ranch Beach Club in Dallas, Texas. The three-day event will include professional, amateur and junior competitions, along with a first ever four-person costume challenge. The Dallas tournament will mark the debut of the NVL's new "Saturday Night Lights" format, which features Saturday night finals with a prize purse of $25,000, followed by a beach party with live music from popular singer/songwriter Kelley James, and activities for the entire family.
"We're thrilled to kick off the 2014 NVL season in Dallas where the sport continues to grow," said NVL Founder and CEO, Albert Hannemann. "Fans will love the new Saturday Night Lights format and the opportunity to celebrate the game, the players and the lifestyle in a festive atmosphere."
The Dallas tournament will feature top pros including veteran player, Priscilla Lima. The weekend will conclude Sunday with a clinic for kids hosted by the pros with an autograph session and BBQ, a component that will be built into all of NVL's tournaments in 2014.
"Dallas will be a fun place to start the season because I'll be returning to my southern roots and playing in front of family and friends," said Lima, a 10 year pro who played collegiate volleyball in bordering Louisiana at UL Lafayette.  "I'm committed to playing in every NVL event this year and I look forward to not only competing, but giving back to the game through the junior clinics."
Dallas Event Highlights:
Thursday – May 22
NVL Pro Qualifier
Corporate Challenge with the Pros
Friday – May 23
Main Draw Matches
NVL Beach Junior Series
Pro Featured Night Matches
NVL Block Party 
Saturday – May 24
Adult Coed 4's Costume Tournament
NVL Pro Competition
12U and 14U Junior Championships
Women's Championship
16U and 18U Junior Championships
Charity Celebrity Event
Men's Championship
Saturday Night Lights Finals & Family Beach Bash
The tournament will also be live streamed for fans on the NVL Network. Full NVL Dallas event details can be found here.
The Dallas tournament is one of six professional events on the NVL calendar in 2014.  The remaining events include:
June 12 – 14: Atlanta, GA – Lakepoint Sporting Community
July 10 – 12: Cincinnati, OH – The Beach Waterpark
August 16 – 17: Milwaukee, WI – Milwaukee Indyfest
September 19 – 21: Hermosa Beach, CA – Hermosa Beach Pier
October 4 – 5: Port St. Lucie, FL – Club Med Sandpiper Bay
For more information about the NVL, please visit: www.thenvl.com or follow on Facebook, Twitter and Instagram.
ABOUT THE NATIONAL VOLLEYBALL LEAGUE
Established in 2010, the National Volleyball League is a professional beach volleyball league built by players for all players, united in one mission: to create a sustainable future for pro beach volleyball in the U.S. Home to six professional events in 2014, a nationwide grassroots beach series and the first-ever beach volleyball academy, the NVL is the only national platform for current professionals and players of all levels to showcase their talents and pursue their aspirations in the sport.
###