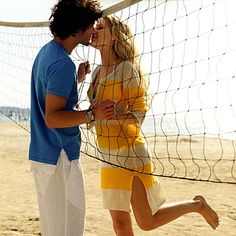 Valentine's Day; the holiday of indulgence. The love is rich, the wine flows freely and the calories don't count. But for an athlete, sometimes this just doesn't cut it. For us, nothing gets us going like a little healthy competition! Here are a list of Valentine's Day activities…for the athletic couple!
— Go for a run together: While running might not seem like the ideal couples activity, it can actually be incredibly gratifying. It's about patience, and it's about pushing your personal limits. Plus, there is NOTHING hotter than a man or woman who likes to break a sweat! To spice things up, try listening to the same playlist and time your strides together.
— Couples yoga: Find balance and ease in your relationship with couples yoga…while getting hot and sweaty together. This is a sure-fire way to heat up your relationship, both on and off the mat. This art form has the power to test a relationship's boundaries of compassion, trust, balance and creativity.
— Ballroom dancing: Let loose on the dance floor with your significant other. Many say ballroom dancing is like couples therapy; but far more fun. Being able to make fun of yourself can be one of the healthiest practices for yourself and your relationship. Sometimes it's fun to be equally bad at something!
— Go bowling: Couples bowling is great for the social butterflies. It's fast pace and there isn't much time for anything but bowling, drinking and eating hot dogs. It's a great activity if several couples want to plan a Valentine's Day "couples night out."
— Go to a trampoline gym: This is just an all-around awesome thing to do, relationship or not. Break a sweat, but don't break your back!
— Build a snowman or a sand castle: Depending on your location in the world, this is a fun and hilarious way of bonding with the one you love. Build, create and then walk away.
— Pepper: Any occasion is the right occasion for a good old-fashioned volleyball peppering match. It's a great way to get some alone time, while not taking the competition TOO far…well, maybe.