OCEAN CITY, Md. (June 1, 2015) – The National Volleyball League (NVL) crowned Puerto Rican men's team Erik Haddock & Roberto Rodriguez-Bertran and women's team Kristen Batt-Rohr (USA) & Priscilla Piantadosi-Lima (BRA) winners at the Ocean City Championships, the league's third stop of the 2015 season.
Haddock/Rodriguez-Bertran battled through the men's qualifying rounds for a sixteen seed in the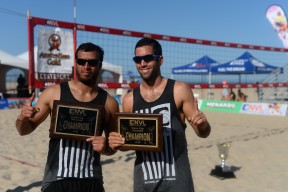 main draw. The pair went on to face seven-seed Skyler McCoy and Eric Zaun in the finals, winning 21-16, 21-18. Haddock and Rodriguez-Bertran weren't strangers to the NVL finals, making an appearance at the Panama City Beach Championships earlier this season, ultimately coming in second to Dave Palm and Mike Placek.
Two-seed Batt-Rohr/Piantadosi-Lima continued their domination with a second consecutive win on the 2015 NVL tour, upsetting one-seed and Panama City Beach champions, Brooke Niles and Karolina Sowala 22-20, 21-18. Batt-Rohr/Piantadosi-Lima defeated Chara Harris and Jessica Stubinski last month at the Madeira Beach Championships.
The tournament was held at the historic Ocean City Boardwalk from May 29-31 and featured top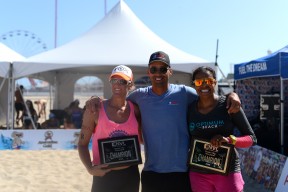 pro beach volleyball players from around the world, competing for a $75,000 prize purse. The NVL partnered with the Baltimore Ravens to host a "Clinic with the Pros" on Saturday at the Ravens 4th Annual Beach Bash, Presented by Miller Lite. Pros Brooke Niles and Karolina Sowala, joined by Ravens' players and cheerleaders, were onsite to teach skills, hand out prizes and sign autographs.
NVL RIZE, the NVL's official amateur series, also hosted a tournament and clinic for juniors in Ocean City throughout the weekend. Finals were played on the NVL center court and live streamed to thousands of fans. The next RIZE tournament is scheduled for June 13 – 14 in Delray Beach, Florida.
The Ocean City Championships center court matches will be available to view free on-demand at the NVL Network.
 The tournament is one of eight professional events on the NVL calendar in 2015.  The remaining events include:
July 10 – 12: Milwaukee, WI
July 16 – 18: Cincinnati, OH
August 6 – 8: Hermosa Beach, CA
August 28 – 30: Seattle, WA
September 25 – 27: Port St. Lucie, FL
For more information about the NVL, please visit: www.thenvl.com, view the 2015 sizzle reel or follow on Facebook, Twitter and Instagram.
About National Volleyball League
Established in 2010, the NVL is a professional beach volleyball league built by players for all players, united in one mission: to create a sustainable future for pro beach volleyball in the U.S. Home to eight professional events in 2015, a grassroots series, and the Club Med NVL Volleyball Academies, the NVL is the only national platform for current professionals and players of all levels to showcase their talents and pursue their aspirations in the sport. With sand volleyball now a sanctioned high school sport, the NCAA's fastest-growing emerging sport in history with 50 schools sponsoring it as of January 2015 and a Division 1 approved championship, the NVL is building the infrastructure for young players to achieve their dreams.
###