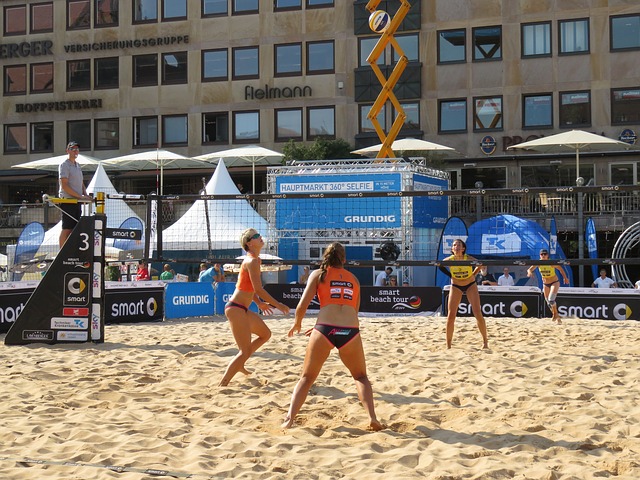 The future is exciting for collegiate beach volleyball, what was once a wish is now a reality. Back in October of 2014 beach volleyball was approved to become a championship NCAA DI sport, and in January of this year DII also became available for players. While the DIII player will get their shot in the spring of 2016, when the inaugural season is scheduled to begin. In addition, next year, in 2016, beach volleyball will now have a full-fledged NCAA Beach National Championship in the spring. This is exciting news, as aspiring young athletes now can fulfill their dream of playing beach volleyball in college!
If you are an aspiring collegiate beach volleyball player and would like to know what you're playing options are, read on to learn which colleges offer an NCAA beach volleyball team:
DI Women's Sand
University of Alabama at Birmingham
University of Arizona
Arizona State University
Boise State University
California Polytechnic State University
CSU Bakersfield
Cal State Northridge
Cal State Sacramento
University of California, Berkeley
UCLA
College of Charleston
Florida Atlantic University
Florida Gulf Coast University
Florida International University
Florida State University
Georgia State University
Grand Canyon University
University of Hawaii, Manoa
Houston Baptist
Jacksonville University
Jacksonville State University
Long Beach State University
University of Louisiana at Monroe
Louisiana State University
Loyola Marymount University
Mercer University
Mississippi State University
University of Nebraska, Lincoln
University of New Mexico
University of New Orleans
University North Carolina, Wilmington
University of North Florida
University of Oregon
University of the Pacific
Pepperdine University
University of Portland
University of San Francisco
San Jose State University
Santa Clara University
University of South Carolina
University of Southern California (USC)
St. Mary's College of California
Stanford University
Stetson University
Texas A&M Corpus Christi
Texas Christian University
Tulane University
University of Washington
DII Women's Sand
Carson-Newman
Colorado Mesa
Concordia University Irvine
Eckerd College
Lincoln Memorial
Spring Hill College
Texas A&M Kingsville
DIII Women's Sand (Spring 2016)
Stevenson University
…and more coming soon-stay tuned!