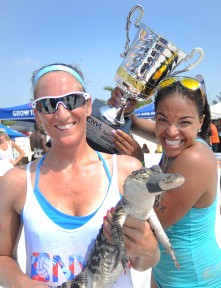 MADEIRA BEACH, Fla. – The National Volleyball League's (NVL) second pro stop of the 2015 season awarded titles to men's team Matt Henderson (USA) & Piotr Marcianiak (POL) and women's team Kristen Batt-Rohr (USA) & Priscilla Piantadosi-Lima (BRA).
Two-seed Henderson/Marciniak defeated nine-seed Skylar DelSol and Jeff Samuels in a hard-fought three game match, 21-19, 18-21, 15-12. Henderson and Marciniak took home the 2014 Midwest Championships in Ohio and look to maintain a commanding presence on the sand this season.
Two- seed Batt-Rohr/Piantadosi-Lima upset one-seed and Panama City Beach 2015 champs Brooke Niles and Karolina Sowala to move into the Madeira Beach women's finals. Batt-Rohr/Piantadosi-Lima went on to dominate in the finals defeating three-seed Chara Harris and Jessica Stubinski, 21-18, 21-12.
The tournament was held at John's Pass Boardwalk in Madeira Beach from April 24-26 and featured top pro beach volleyball players from around the world, competing for a $50,000 prize purse. NVL's junior and amateur league, NVL RIZE, hosted a free clinic with the pros for local juniors before the women's finals on Sunday. Fans enjoyed Mikasa and Australian Gold giveaways, trivia with the pros, serve to win competition, and much more.
The Madeira Beach Championships center court matches will be available to view free on-demand at the NVL Network.  Click here to see all the matches and results.
The tournament is one of eight professional events on the NVL calendar in 2015.  The remaining events include: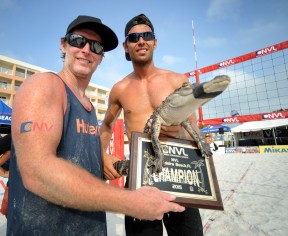 May 28 – 31: Ocean City Beach, MD
July 10 – 12: Milwaukee, WI
July 16 – 19: Cincinnati, OH
August 6 – 8: Hermosa Beach, CA
August 27 – 30: Seattle, WA
September 24 – 26: Port St. Lucie, FL
For more information about the NVL, please visit: www.thenvl.com, view the 2015 sizzle reel or follow on Facebook, Twitter and Instagram.
About National Volleyball League
Established in 2010, the NVL is a professional beach volleyball league built by players for all players, united in one mission: to create a sustainable future for pro beach volleyball in the U.S. Home to eight professional events in 2015, a grassroots series, and the Club Med NVL Volleyball Academies, the NVL is the only national platform for current professionals and players of all levels to showcase their talents and pursue their aspirations in the sport. With sand volleyball now a sanctioned high school sport, the NCAA's fastest-growing emerging sport in history with 50 schools sponsoring it as of January 2015 and a Division 1 approved championship, the NVL is building the infrastructure for young players to achieve their dreams.
###
Men's Featured Matches (including finals)
Women's Featured Matches (including finals)