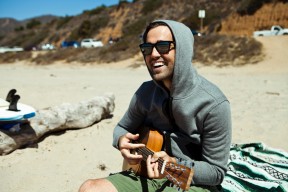 HERMOSA BEACH, Calif. (May 14, 2014) – The National Volleyball League (NVL) has signed popular singer/songwriter, Kelley James, to a two-year deal to be the official voice of the league. A California native and diverse music artist, James is developing a theme song for the NVL, which will embody the beach culture and passion for the game. James will perform the theme song and his blend of pop, hip-hop, reggae, and rock music at NVL events during the upcoming seasons. His first performance will take place at the 2014 Dallas tournament during the "Saturday Night Lights" event on May 24, which features Saturday night finals followed by a beach party with live music and activities.
"We're excited to have Kelley on board to further engage fans of the NVL through his music," said NVL Founder and CEO, Albert Hannemann. "Building on our new tagline, The Soul of Beach Volleyball, the NVL wanted to take an extra step and provide fans with another way to connect with the sport and the lifestyle."
"As a sports enthusiast and someone who grew up around the beach, I can appreciate wanting to share this lifestyle with others and feel the NVL is headed in the right direction, creating more opportunities for athletes and greater visibility for beach volleyball," said Kelley James. "I look forward to capturing the spirit of the game in their theme song and fostering this culture through the partnership of music and sports."
Drawing from rock, pop, and the beachside vibes of his home state of California, James seamlessly combines acoustic guitar melodies with clever lyrics and freestyle vocal riffs to create a signature sound that fans and followers have grown to recognize and love. Most recently, James released his newest full-length album The Pattern Transcending which debuted in October of 2013 and reached the top 20 on the iTunes Singer/Songwriter charts. With a career spanning five years, three albums, and multiple international tours, he has proven himself as an accomplished artist both in-studio and on-stage.
For more information about the NVL, please visit: www.thenvl.com or follow on Facebook, Twitter and Instagram.
ABOUT THE NATIONAL VOLLEYBALL LEAGUE
Established in 2010, the National Volleyball League is a professional beach volleyball league built by players for all players, united in one mission: to create a sustainable future for pro beach volleyball in the U.S. Home to six professional events in 2014, a nationwide grassroots beach series and the first-ever beach volleyball academy, the NVL is the only national platform for current professionals and players of all levels to showcase their talents and pursue their aspirations in the sport. Driven by a pure passion to grow the game and share the love of the sport and beach culture, the NVL is the Soul of Beach Volleyball.
###