ATLANTA, Georgia (June 15, 2014) – The National Volleyball League (NVL) hosted the 2014 Atlanta Championships this weekend with Canadians Sam Schachter & Olympian Josh Binstock and Pri Piantadosi-Lima (BR) & Karolina Sowala (PL) taking home repeat men's and women's titles, respectively.  Both teams were crowned winners at the NVL Dallas Championships in May.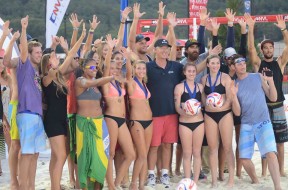 Top seed Binstock and Schachter defeated seven-seed Travis Schoonover & Andrew Russell 21-18, 20-22, 15-11. Two-seed Piantadosi-Lima and Sowala defeated three-seed Erin Gray and Heather Lowe 21-14, 21-17.
"We are the first league to bring pro beach volleyball to the new LakePoint Sporting Community and it's been an exciting opportunity to demonstrate to the local fans what the NVL is all about – elite competition surrounded by a family-friendly beach atmosphere," said NVL Founder & CEO Albert Hannemann. "Pros, amateurs and juniors were able to showcase their talents in an amazing setting while furthering our mission of growing the game and engaging fans."
All of the Atlanta matches are available to view free on-demand on the NVL Network.The Atlanta tournament was held from June 12-14 and featured many of the top pro beach volleyball players from around the world, competing for a $25,000 prize purse. The weekend concluded with the NVL's "Saturday Night Lights" format, which included evening finals and a beach party. Music artist Kelley James, the official voice of the NVL, performed for fans and players.
The tournament is one of six professional events on the NVL calendar in 2014.  The remaining events include:
July 10 – 12: Cincinnati, OH – The Beach Waterpark
August 15 – 17: Milwaukee, WI – Milwaukee IndyFest
September 19 – 21: Hermosa Beach, CA – Hermosa Beach Pier
October 3 – 4: Port St. Lucie, FL – Club Med Sandpiper Bay
For more information about the NVL, please visit: www.thenvl.com, view the NVL 2014 sizzle reel or follow on Facebook, Twitter and Instagram.
ABOUT THE NATIONAL VOLLEYBALL LEAGUE
Established in 2010, the National Volleyball League is a professional beach volleyball league built by players for all players, united in one mission: to create a sustainable future for pro beach volleyball in the U.S. Home to six professional events in 2014, a nationwide grassroots beach series and the first-ever beach volleyball academy, the NVL is the only national platform for current professionals and players of all levels to showcase their talents and pursue their aspirations in the sport. Driven by a pure passion to grow the game and share the love of the sport and beach culture, the NVL is the Soul of Beach Volleyball.
###