NVL VolleyFest fan experience to coincide with tournament from Oct. 2-5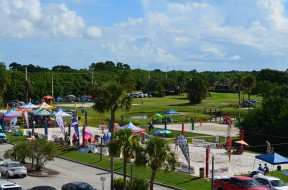 PORT ST. LUCIE, Fla. (Sept. 25, 2014) – The National Volleyball League (NVL) concludes its 2014 season with the Players Championships pro tournament being held at the NVL Club Med Academy at Sandpiper Bay in Port St. Lucie, Florida from October 3-4, 2014. The tournament will feature the top eight men's and women's teams competing for a prize purse of $100,000, the largest of the season.  The NVL Club Med facility is the first and only beach volleyball academy in the world, and includes eight premium beach volleyball courts and is the hub of high performance training in the U.S and the official training center for the NVL.
"We're thrilled to close out our season at the NVL Club Med Academy and provide players and fans access to this amazing resort," said NVL Founder and CEO Albert Hannemann. "Club Med has one of the most recognizable brands in the world and we couldn't be happier with this partnership. It's a perfect place to celebrate the huge success and growth we have experienced this year and I can't wait to share that with our players, fans, and sponsors."
In conjunction with the pro tournament, the NVL is hosting a VolleyFest fan experience for family, friends, and fans with a weekend full of volleyball festivities.  The league will be offering both a free clinic and tournament for the fans and juniors to play alongside and with the NVL pros. Please click here to view booking options.
The newly renovated Club Med Sandpiper Bay resort is family friendly and offers a range of sports and activities including paddle boarding, sailing, flying trapeze, tennis, golf and more. Access to the volleyball courts and participation in the NVL clinic and tournament is open to the public. Usage of anything inside the resort including food, beverages, access to pools and other Club Med activities (i.e. tennis, golf, paddle boarding, kayaking, trapeze, etc.) requires purchase of a Day Pass for guests not staying at the resort. Music artist Kelley James, the official 'Voice of the NVL' will be performing inside the resort on Saturday, Oct. 4 at 9PM and passes are required to view his performance.
NVL Player Championships Highlights:
Location: 4500 SE Pine Valley Street, Port St. Lucie, FL 34952
Friday, October 3
11AM-5PM           NVL Main Draw Competition
7PM                     Welcome Cocktail Party at Riverside Terrace
8:30PM                Club Med Showtime "NOVA"
9:15PM                Red Carpet Party at Slice Bar with DJ Cruz 
Saturday, October 4
9AM-10AM           FREE Junior & Adult Clinic
10AM                   Women's Semi-Final #1
10:30AM-2PM      FREE Junior & Adult Tournament
11:10AM              Men's Semi-Final #1
12:20PM              Women's Semi-Final #2
1:30PM                Men's Semi-Final #2
2:40PM                Women's Final
3:50PM                Men's Final
9PM                     Performance by music artist, Kelley James
10PM                   Beach Party  
Full NVL Player Championships event details can be found here.  Matches will be broadcast live and available to view at NVL Webcast.
For more information about the NVL, please visit: www.thenvl.com or follow on Facebook, Twitter and Instagram. The NVL 2014 highlight reel may be viewed here and our new magazine, VBSoul, may be viewed here.
Check out our SportsCenter segment that aired September 24, 2014, click here.
ABOUT THE NATIONAL VOLLEYBALL LEAGUE
Established in 2010, the National Volleyball League is a professional beach volleyball league built by players for all players, united in one mission: to create a sustainable future for pro beach volleyball in the U.S. Home to six professional events in 2014, a nationwide grassroots beach series and the first-ever beach volleyball academy, the NVL is the only national platform for current professionals and players of all levels to showcase their talents and pursue their aspirations in the sport. Driven by a pure passion to grow the game and share the love of the sport and beach culture, the NVL is the Soul of Beach Volleyball.