There's nothing better than ringing in holiday cheer with food, family and volleyball. Volleyball players followed their own set of holiday guidelines this year. Here's a recap of how players around the world brought in the holidays:
They SERVED a feast full of colorful variety including:
SPIKED egg nog with some not-so-egg-nog libations. (If you're not of legal age, move along!)
2 oz light rum
6 oz milk
1 tsp powdered sugar
1 whole egg
nutmeg
A fridge stacked with SIX-PACKS for crazy Uncle Louie. Thirsty for more?
Grandma's secret PANCAKE recipe. The secret? EXTRA BUTTER!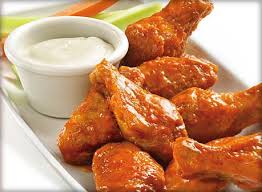 CHICKEN WINGS to DIG into.
1 tablespoon unsalted butter, melted
1/4 teaspoon cayenne pepper
1/4 teaspoon freshly ground black pepper
1/4 teaspoon kosher salt
1/4 cup hot pepper sauce (such as Frank's)
5 pounds chicken wings, tips removed, drumettes and flats separated
2 tablespoons vegetable oil
1 tablespoon kosher salt
1/2 teaspoon freshly ground black pepper
Mix first 4 ingredients in a medium bowl; let stand for 5 minutes. Whisk in hot sauce; keep warm. DO AHEAD: Can be made 1 week ahead. Let cool completely; cover and chill. Rewarm before using.
Preheat oven to 400°. Set a wire rack inside each of 2 large rimmed baking sheets. Place all ingredients in a large bowl; toss to coat. Divide wings between prepared racks and spread out in a single layer.
Bake wings until cooked through and skin is crispy, 45–50 minutes.
Line another rimmed baking sheet with foil; top with a wire rack. Add half of wings to ginger-soy glaze and toss to evenly coat. Place wings in a single layer on prepared rack and bake until glaze is glossy and lightly caramelized, 8–10 minutes. Toss remaining half of wings in Buffalo sauce. Serve immediately (no need to bake).
Braised Lamb SHANK for the main attraction:
2 tbsp olive oil
8 lamb shanks
1 onion, roughly chopped
2 carrots, roughly chopped
few sprigs fresh rosemary
3 fresh bay leaves
4 garlic cloves, left whole
2 tbsp plain flour
1 tbsp tomato purée
350ml white wine
500ml lamb or chicken stock
Heat oven to 200C/fan 180C/gas 6. Pour the oil in a casserole dish or roasting tray large enough to fit all the shanks. Spend a good 10 mins browning the lamb all over. Remove the lamb, add the onion and carrot and cook for 10 mins until starting to brown. Stir in the herbs and garlic and cook for a few mins more. Stir in the flour and tomato purée, season well then pour over the wine and stock. Return the lamb shanks to the pan. Bring to a simmer, cover with a lid or tightly with foil and cook, undisturbed, for 1½-2 hrs until lamb is tender.
Remove the lamb from the sauce and set aside. Put pan back on the heat and bubble it down for about 15 mins until rich and glossy. Pass through a sieve into a jug. The lamb and sauce can be stored in the fridge for two days or frozen for one month. To serve, reheat the lamb in the sauce, adding a splash of water if the sauce is too thick.
And a little extra spice with this delicious Chile PEPPER Christmas Cookie Recipe:
12 tablespoons unsalted butter
3/4 cup sugar
1 large egg
1 tablespoon finely grated lemon zest
1 teaspoon pure vanilla extract
2 1/4 cups all-purpose flour
1/4 teaspoon salt
Cookie Paint: 2 large egg yolks, lightly beaten and separated in equal portions into 2 or more bowls or cups
Preheat oven to 350 degrees F.
Soften the butter. In a mixing bowl, cream the sugar and butter and add the egg, lemon zest and vanilla. Beat until blended. Whisk together the flour and salt and gradually add them to the creamed mixture, on low speed. Add some water, a few drops at a time, until the dough starts to come away from the side of the bowl.
Roll out dough to 1/8-inch thickness on a lightly floured surface. Cut out chile pepper shapes, using a cookie cutter or freehand. Transfer shapes to greased or nonstick cookie sheets.
Using a few drops of food coloring at a time, color the egg yolk in each cup, as desired. Using a small, clean paint brush, paint the chile pepper red and its stem green.
Bake 8 to 12 minutes or until the cookies begin to brown around the edges. Dust with red or green sprinkles if desired.