Do you find yourself tempted when you start seeing those pretty heart shaped boxes lining the aisles? While those chocolate-filled heart boxes are deliciously tempting, they are usually no good for you! More often than not, store-brought candy is loaded with processed sugar, and is comprised of ingredients you can't pronounce. This year try something new; ditch the store-brought candy and instead, make your own healthy Valentine's Day sweet treats. By making your own food, you ensure that your creation is filled with love, and there's nothing better tasting than that!
It doesn't matter if you're flying solo, or are romantically involved – everyone can enjoy these healthy athletic Valentine's Day treats. Get creative with your presentation and give them to your significant other in place of those unhealthy chocolate filled heart shaped boxes, or just enjoy them yourself. There's nothing better than giving a bit of delicious love to others and yourself!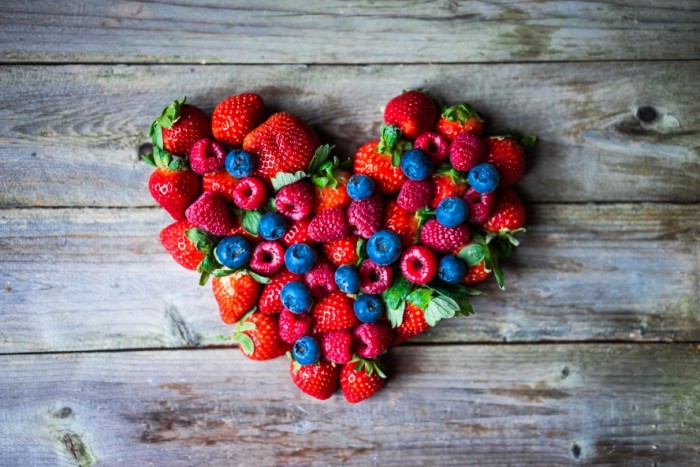 Cacao Covered Fruits and Nuts
You Will Need

:
•Cupcake wrappers
•Muffin tin
Ingredients

:

•Assortment of fresh and/or dry fruit (i.e. banana chips, strawberries, blueberries, dragon fruit, pomegranate seeds, figs, clementine's, apricots, etc)
•Assortment of nuts
•Himalayan pink salt (optional)
•4 Tb melted coconut oil
•2 Tb of maple syrup
•3 Tb of raw cacao powder (unprocessed, unsweetened raw chocolate)
•1 tsp of vanilla
Directions

:

1. Make the raw cacao sauce by combining the coconut oil, maple syrup, cacao powder, and vanilla in a bowl and mix well.
2. Dip the fruit and nuts into the cacao sauce and arrange in each cupcake wrapper.
3. Pour any leftover sauce on top of fruits and nuts arranged in wrapper.
4. Place a dash of Himalayan pink salt on top if you so desire.
5. Place in the refrigerator to harden.
Heart-Shaped Strawberry Cacao Pudding Cups
You Will Need

:

•Package of strawberries (sky really is the limit though!)
•Box of foil cupcake wrappers
•Muffin pan
Ingredients

:
For the Cacao Sauce (Cacao Wrapper):
•8 Tb melted coconut oil
•4 Tb of maple syrup
•6 Tb of raw cacao powder (unprocessed, unsweetened raw chocolate)
•2 tsp of vanilla
For the Cacao Pudding:
•2 large, ripe avocado (secret healthy ingredient!)
•1 cup of Medjool dates
•1/2 to 3/4 cup of coconut milk
•3 Tb honey or maple syrup
•5 Tb raw cacao powder
•Two pinches of Himalayan pink salt
Directions

:

1. Make the raw cacao sauce by combining the coconut oil, maple syrup, cacao powder, and vanilla in a bowl and mix well.
2. You will use the foil cupcake liners as a mold. Place foil wrapper into muffin tin for stability.
3. Scoop out a spoonful of the cacao sauce into each liner. Make sure to drag some of the chocolate up the sides of the liner, and make sure you have every nook and cranny covered. Be sure to cover the entire inner surface.
4. Place in refrigerator until all are set solid.
5. While you wait for cups to set, clean your strawberries. Make them into a heart shape by taking a sharp paring knife and cut a V-shaped notch on the top of the strawberry. Remove the core, and trim off the sides in order to reveal the heart shape. Hold strawberries aside for now.
6. Now for the pudding! Cut and scoop avocado out of its skin. Dispose of skin and seed.
7. Place avocado flesh and the rest of the cacao pudding ingredients into a food processor, and blend until smooth.
8. Add more coconut milk if you need more liquid to facilitate blending. Blend until smooth.
9. Do a taste test! Adjust if needed. Place cacao pudding in the refrigerator.
10. Check on cacao wrappers, if hardened, gently remove foil wrapper. Be careful you don't apply too much pressure to the sides. You can also hold off on this step until you are ready to enjoy one.
11. Take out cacao avocado pudding and dish some into each cacao cupcake liner. Place one or more heart shaped strawberries on top.
12. Put back into the refrigerator until you are ready to eat one, or all. If you do not eat these right away it is best to keep them in the refrigerator. Enjoy!

Optional: If you have any leftover cacao sauce you can drizzle the cacao sauce on top of the strawberries. You can also dip the strawberries into the cacao sauce.